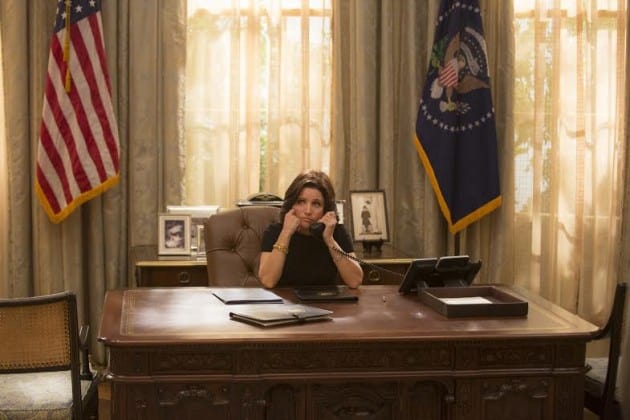 This week's Veep opens with Mike having lunch with his wife, Wendy, in honor of her birthday, an event that basically slips his mind due to his workload, which renders him unable to get a gift or make his time with her special. Mike's constant state of being spread thin prompts him to go on a rant as to how exhausted he feels while the stakes keep getting higher both for Selina's interim term and her ongoing presidential campaign. The press secretary appears to be about to have a nervous breakdown, which both makes complete sense and begins "Mommy Meyer" on a hilarious note. That said, it wouldn't be far-fetched to imagine another staffer biting the dust. What is most important about Mike's sudden collapse is that he is addressing how incapable he is of doing his job, one that he also seems to be increasingly dreading.
In parallel, while Selina gloats about her performance at her first debate, a different sort of crisis takes place at the the Oval Office when a former Marine shoots and kills three people in Pittsburgh, an act of violence that is emphasized when a trespasser breaks into the White House with the aim of "killing Tom James and that b*tch," causing panic and chaos in every room of the building. In another masterful take on the presidential security detail, Secret Service men are quick to arrive at the West Wing and surround the POTUS, creating a circular human shield, while everyone else is left to their own devices. As fear invades Selina's aides, they react in different ways. Sue excels, as usual, by almost not blinking; instead, in her dry tone, she mocks Gary, who has taken a clock as his weapon of choice.
Fortunately, the intruder is taken into custody before he can do any harm, and while Selina is hurt because she wasn't the primary target of the attack, everyone is forced to resume their activities, filled with adrenaline. Among the tasks at hand, Gary is helping the POTUS orchestrate a "Ladies Night" with her former colleague friends, while Tom attends to a town hall meeting and expresses his opinion regarding the Pittsburgh shooting. The potential VP gets in hot water by being honest and voicing that it would be a mistake to rush and condemn the ex-Marine who killed the innocents, then points out that the man was also a victim, since not only was he fatally contained, but he was also a former service man suffering from PTSD. That statement, undoubtedly, has the potential to unleash a load of backlash and also puts Selina at risk of making a fool of herself, since she is set to speak right after Tom and has no idea what he just said. As a result, Selina only offers a few words unrelated to the event, while, in a "reverse Kanye," the Commander-in-Chief leaves the stage, letting Mike speak and take the heat. When the already jaded press secretary is given the microphone, he looks exactly like Taylor Swift looked back then: deer caught in the headlights. Unfortunately, there is no Beyonce to save him from the awkward moment.
Later on, Selina welcomes the lawyers from her old firm to the White House, and the evening is a debacle of epic proportions. To begin with, the menu (pizza and ice cream) underwhelms the guests, who were expecting a regal banquet. That, however, pales in comparison to everything that follows. Not only does it become clear that Selina is not really friends with the women, whose life events she's missed, but also the most powerful woman of the country looks like the girl the group just let sit at their lunch table at school: they pity her. The POTUS's nature appears to be of an eternal outsider.
Reminiscing about the good old times and personal lives proves to be futile, which prompts Selina to bring up her current political endeavors. She is naively expecting accolades for her Families First initiative; instead, the group of women tear it apart while they simultaneously take advantage of the topic to remind the POTUS that tax law was never her forte. Twisting the knife, her former friends praise Tom, who even in absence steals the spotlight.
Catherine joins the disastrous dinner, which propels her anxiety levels and subsequent ache for carbs. It's an impeccable detail on the writers behalf to have the First Daughter being used to cope with awkward situations. That said, Selina even tries to make her daughter part of the conversation, but instead of bragging about Catherine's accomplishments, like any other mother would, all she can come up with is that her daughter has gotten rid of her baby fat. When it becomes obvious that the mood at the dinner table is dense, Selina decides to cut the reunion short, with zero tact. To make matters worse, there is a second break-in that results in Selina being guarded again by agents, while the frenemies she will probably never see again collectively freak out and, much like the staffers early on, are left to fend for themselves.
In the B-plot, Tomas apologizes for his previous statement by executing (quite possibly) the "I will be myself and follow no formula-formula." Naturally, his approach works.
In parallel, Amy and Dan keep getting their hands dirty while they lobby. While it adds comedy to the series, their story now feels too detached from the rest of the show.
This episode of Veep was enjoyable and well-crafted. It also excelled at providing context by bringing in Selina's former coworkers. My one fear is that Mike might be a lobbyist soon, too.
Highlights:
– Tom finding out about the data breach thanks to Jonah's blabber mouth. This might give him some leverage later on, though.
– Dan and Amy using woman as bait to close deals was flawless.
[Photo credit: HBO/Patrick Harbron]