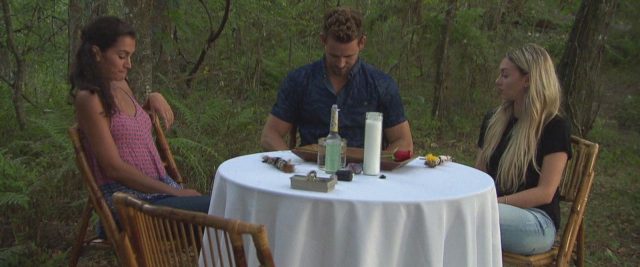 And then there were two. Well, at least tonight there are. But in reality The Bachelor is only going to have room for one winner. That winner is going to be either Vanessa Grimaldi or Corinne Olympios. In the past few weeks and through the course of the entire show it's evident that Corinne is the villain. She's been portrayed as fake, even her mother admitted that her antics on the show are fabricated, and she's far and away the least favorite of all The Bachelor contestants. But she's still in the game, so anything can happen.
Vanessa Grimaldi on the other hand is the front runner to win Nick Viall's proposal. Tonight things are going to be crazy because the two go head-to-head on a date with Nick Viall. Only one of them will be given a rose. And let's just say there will be no punches pulled at all. These two come out swinging from the get go.
"I think I was as anxious today as I was night one," Viall says in the preview. "Taylor and Corinne clearly have some conflict with each other." Taylor comes out swinging, implying that Corinne "lied" to Viall about their previous spat. "Not once did I say you were stupid, did I name call you, and I certainly did not bully you," Taylor says. "You told me you wouldn't be my friend because I'm not intelligent enough for you," Corinne replies. "That's not what I said at all," Taylor fires back.

Here's the clip below
This two-on-one is about to turn into the survival of the fittest. #TheBachelor pic.twitter.com/091JFmqPJW

– The Bachelor (@BachelorABC) January 28, 2017
You'll remember that Taylor is a mental health counselor and just last week she told Corinne she was unsure she "had the maturity or the emotional intelligence or the coping skills to deal with stuff." Viall admits that it's going to be extremely hard to choose between the two but one of these ladies is going to have to go home. The collective public is rooting for Corinne to get booted but we'll have to see tonight.