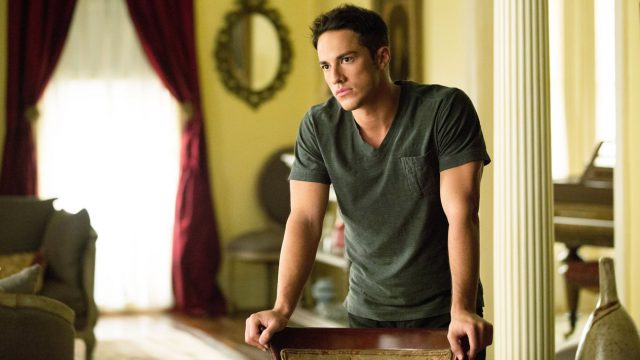 When we spoke with the cast and producers of The Vampire Diaries at San Diego Comic-Con back in July, series co-creator and showrunner, Julie Plec, teased that there would more than likely be quite a few characters returning at different points throughout the show's final season. Now, thanks to EW.com, we know for certain that one of those returning characters that will be appearing in The Vampire Diaries Season 8 will be Michael Trevino's Tyler Lockwood.
Trevino, who left the CW drama as a series regular at the end of Season 6, appeared a couple times during The Vampire Diaries' seventh season. Viewers last saw Tyler being beaten unconscious by Damon; however, in Damon's defense, his mind was being more than a little warped at that time. Tyler survived that encounter and will be back in Mystic Falls again for the long-running series' swan song.
Here's how EW.com describes Tyler's return to The Vampire Diaries, which occurs pretty early on in Season 8:
First appearing in episode 3, Tyler will once again come face-to-face with Damon, except this time, Damon's mental state is even worse as he continues to spiral out of control after his experience in the vault. Tyler will attempt to talk some sense into Damon by reminding him what and who is important, but if history is any indication, Damon's not always eager to listen to Tyler…
What approach will Tyler take as he tries to bring Damon out of his spiral? Will he be able to reach Damon, or will this selfless act be the last thing that Tyler ever does? Comment below and let us know what you think will happen.
The Vampire Diaries Season 8 kicks off on Friday, Oct. 21, at 8 p.m. on The CW.
[Photo Credit: Bob Mahoney/The CW]