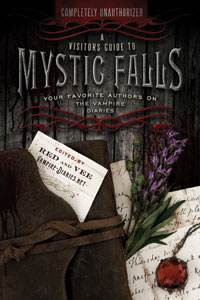 Smart Pop Books publishes a lot of essay books on various television shows. Brittany just posted a review on "Inside Joss' Dollhouse". Also released this month is a collection of essays on The Vampire Diaries, entitled "A Visitor's Guide to Mystic Falls".
The runaway popularity of The Vampire Diaries probably surprised no one in the legion of vampire fans, but it was certainly a nice gift for The CW network. The books, released long before Twilight was even a thought, the new series (who's second season premiered in early September) pits two vampire brothers against each other for the love of the same woman – who also happens to be identical to the very old vampire female who turned them both.
Confusing? You betcha. Less confusing is the entire vampire mythology and the allure of the "bad boy", which has been gracing our screens for a very long time, and was popularized against in the 1990s with Buffy: The Vampire Slayer on the WB network.
"A Visitor's Guide to Mystic Falls" is a look at the various themes of the show, as well as the characters. The book is edited by the owners of Vampire-Diaries.net, a popular fan site for the books and the TV series. Populated with humorous essay titles, such as "Women Who Love Vampires Who Eat Women" and "In Which Our Intrepid Heroines Discuss the Merits of the Bad Boy Versus the Reformed Bad Boy with the Help of a Couple of Dead Women Who Know About Such Things", the book successfully manages to pair wit with an insightful look at character motivations, mythology and the underlying themes of the show.
Companion guides, which is similar to this book, always add an extra dimension of enjoyment to a favored television show. With a show that's rich in mythology, history and complex characters, there's something thought-provoking about reading the theories and insights of other fans. If you're a fan of this series, this is definitely a book you should read.
You can purchase the book here through the publisher. You can also enter our contest to win a free copy of the book.
clarissa @ tvovermind.com
twitter.com/clarissa373
Tell us what's wrong with this post? How could we improve it? :)
Let us improve this post!