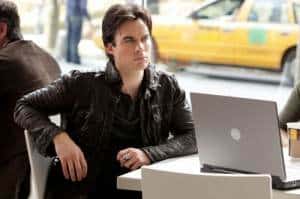 "Won't be long now".
Well that's not true considering we will have to wait until December 2nd for a new episode, got to love those cliffhangers that this show is so fond of torturing us with. This episode was all about putting the players together and exposing the reasons behind Katherine and her whole "manipulative, psychotic" existence, and despite it being less action heavy and more about the conversation, this week showed that the mythology behind the show goes back way before the Damon and Stefan were even born.
The episode starts in Bulgaria in 1490, Katherine is Katerina Petrova and still human, giving birth to an illegitimate child that allowed for Elena's birthright to remain a secret until now. This scene coupled with Katerina's return to Bulgaria in 1492, finding her family brutally slaughtered at the hands of the mysterious and ominous Klaus goes some way to show why Katherine is as cold and detached as she is (and reminded me a little of Eric's family being slaughtered in True Blood). The manipulative part of her personality has always been there, she uses Trevor to escape from Klaus and by getting Rose to feed her blood to help her become immortal, she really will do anything to survive. I'm glad that they made Katerina just as feisty as Katherine has been, and it only makes sense that she would have been like this in her human life, becoming polarised in her vampire one. Like the moment with Stefan back in "Memory Lane" they have given Katherine some moments of sadness, she is old and so she can pretend to turn the switch off but as Rose reveals in this is a lie and makes Katherine more than a one dimensional villain.
Several new characters were introduced this week and in true TVD fashion were not all long for this world, Slater served his purpose of revealing how he contacted Elijah for Rose (through Craigslist of course) and we met some new warlocks. The warlocks are a father and son combination, Luka who appears to be a potential love interest for Bonnie, which puts the breaks on any potential romance between her and Jeremy. His father, Dr. Jonas Martin seemed to be too interested in meeting Bonnie and the surprise cliffhanger at the end between the older Martin and Elijah shows why there should be cause for concern. I'm all for the expanding of the supernatural world and how this will prove problematic to our Mystic Falls gang as Elijah and The Originals really should be feared. Not only is he impenetrable to death by stake, he can shatter a huge window with a stack of quarters and here's the kicker; he can compel other vampires (bye Slater it was nice knowing you), not good news for the Salvatore boys.
Not all was bleak, especially not for fans of Damon who got the shirtless scene that was promised by executive producer Julie Plec, it may not be with the women that most fans want to see Damon with but considering both of their current circumstances it makes sense that Damon and Rose would find comfort with each other.
It was good to see Stefan and Caroline together again, even if she was only acting as a distraction, there is clearly a friendship here and one that reminds him of Lexi (who despite her death last season I would love to see back in flashback form tearing it up with Stefan, pretty please). Even though Caroline kept the girl code, Stefan figured out where Elena was and in the most heartbreaking scene of the hour (of which there were several) Elena realises that everyone is in danger because of her and only her, because she exists. This was Nina Dobrev's most challenging episode to date, playing three different characters (Katerina pre and post turning and Elena) and as she has been doing all season she really knocked it out of the park and this further shows why I chose her as the best actress on our midseason review, really amazing work from Miss Dobrev. A-
What did you all think? Feel bad for Katherine? Worried that all of our gang aren't going to survive what is to come? Already wishing that December 2nd was here? Let us know in the comments below or sound off in the forum.