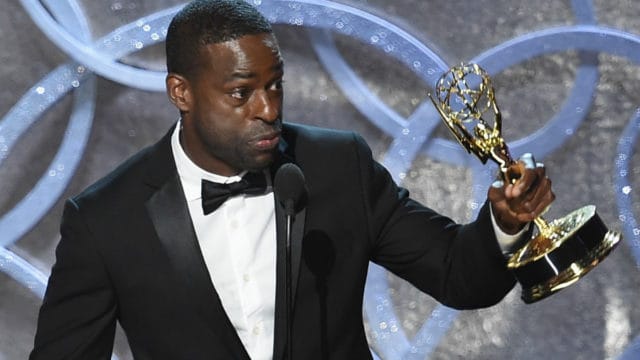 The 69th Annual Emmy Awards aired on CBS last night. The three hour long broadcast saw multiple wins for series like Atlanta, Veep, and Big Little Lies. However, network television did receive a little Emmy love as well. One of those wins was for the talented Sterling K. Brown. The actor received an Emmy in the Outstanding Lead Actor category for his performance on the NBC series This is Us.
The problem that sometimes happens towards the end of an Awards broadcast is that the winner's acceptance speeches are cut due to timing. This year's festivities actually ended 2 minutes later than originally planned. Unfortunately, Sterling K. Brown was cut off midway through his speech, much to the audiences' disappointment.
Here is what viewers at home did not hear from the This Is Us star. "I wouldn't mind finishing. I wanted to thank our writers. You guys are our life's blood. To our producers and directors, thank you for your guidance and friendship. I want to thank Dan Fogelman. He's not trying to make America great again, he's trying to make it the best that it's ever been. I want to thank my manager of 17 years." Brown announced as the music loudly muted him out before heading to commercial.
He continued his speech to reports in the press room by stating, "And to my wife, they cut me off before I got to thank my wife, Ryan Michelle Bathe," he concluded. "You're everything. You make my life worth living. You gave me two of the most beautiful things that God has ever put on this planet: my sons. Your daddy loves you with the strength of a thousand suns. I'll see you Monday after work."
This Is Us will return for its second season on Tuesday September 26th.
Were you excited about Sterling K. Brown's win? Let us know in the comments section below.
Photo by: CBS
Save