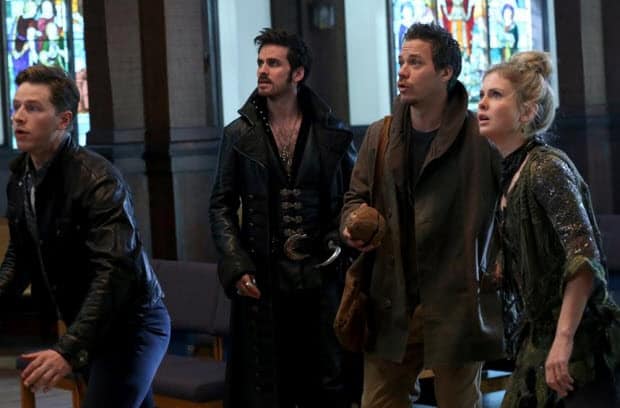 There was a lot of speculation for how this mid-season finale would go down and "Going Home," like some of the previous episodes in season 3, has brought the show to the next level.
As expected, they resolved the mind-swapping situation fairly quickly, but the good thing was that the problems just increased after that. If they hadn't, it would have felt too easy. This ultimately lead to the big moment where Rumple decided to end it by sacrificing himself in order to get rid of Peter Pan and this was one of Robert Carlyle's greatest scenes in the entire series.
While it remains a mystery if Rumple really died (with this show, looks can be deceiving), if this was in fact the end of one of the show's biggest villains, then Carlyle did a superb job by going out with a bang. He died a hero after his many attempts to redeem himself and if he truly is dead, then this was in fact a good conclusion to his character.
Some will probably call the defeat of Pan a bit too easy, but after everything that these characters have gone through, they deserved to win and it was a great payoff. It can't be stressed enough that Robbie Kay brought a whole new take to Peter Pan as an antagonist and that he was a fantastic addition to the show. His performance in every episode was almost at the level of the main antagonists of Once.
Season 3 has been a great season for basically all the actors in the main cast as they have been able to show more layers by having their characters in Neverland. While everyone brought their A-game as always, Lana Parrilla shined a bit more for the third week in a row, in addition, Jennifer Morrison's emotional performance during the heartbreaking good-bye needs to be pointed out as well.
Regina's gift to Emma was the point when the character got redeemed after a long arc that started in season 2. It was a satisfying payoff and whatever happens to this character in the future, at least she showed that she is capable of reaching redemption after everything that she has done throughout the years.
The scene when Regina explains that all of them except for Henry and Emma will be returned to the Enchanted Forest was the moment when "Going Home" started to feel like a series finale. It had all the right emotions and beats that a series finale usually have. Fortunately, this wasn't the series finale and hopefully, whenever the show does end (hopefully not any time soon), there will be a happier ending. When Hook showed up, the episode went from feeling like a series finale into a season finale. One has the feeling that when the show returns in March that it's going to feel like a new season in a way.
Was there anything to nitpick about? For once, there wasn't much to complain about because "Going Home" did what it was supposed to do which was to give a satisfying conclusion to part 1 of this season. It definitely left a lot of big questions unanswered, but these kinds of questions are meant to be answered when the show comes back. If this had been the season finale of season 3, that would have been acceptable.
It was nice seeing so many familiar faces again despite that they didn't get a lot of dialogue or screentime. But that was actually acceptable because they only needed to do one thing and that was to be there when they would get returned to the Enchanted Forest.
For 99% of the time, season 3 of Once Upon a Time has so far been a powerful season and the key to that success was its decision to base it around one particular storyline which was the adventures in Neverland.
To sum up this winter finale, "Going Home" did a remarkable job in wrapping up its Neverland arc and giving the audience a tease to what the next half of the season is going to be like. Without going into spoilers of what was seen in the trailer for the mid-season premiere, the second half looks like it's going to be a very exciting one.
From what was seen, it seems that the show is going to continue with the strength that it had in part 1 by basing it around one particular storyline again. Even though it's frustrating that the show won't be back until March, one has the feeling that the wait will be worth it.
Once Upon a Time returns with new episodes on Sunday, March 9, 8/7c on ABC.
[Photo via Jack Rowand/ABC]