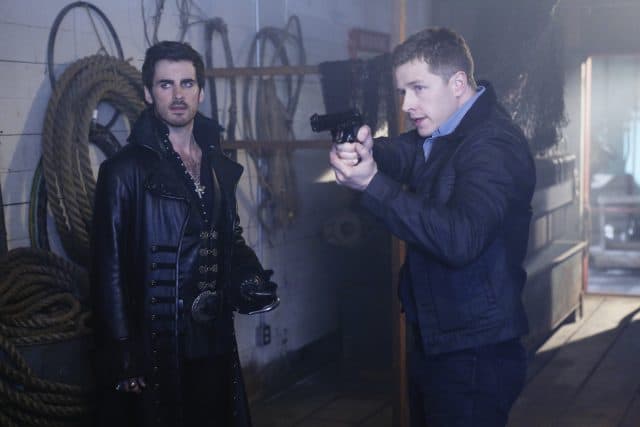 At San Diego Comic-Con, I had the chance to speak with several members of the cast and crew of some of my favorite shows. In the press room for Once Upon A Time, I spoke with Colin O'Donoghue (Captain Hook) and Josh Dallas (Prince Charming) about what's coming up for them in Season 6.
I'm sure you all want to know this first, but the Evil Queen will, in fact, be gunning for Snow White as per usual. Dallas shared that she's back, and that she's going "full force" after Snow White, which will greatly impact Charming's character also. That isn't to say, though, that the Queen won't be going after everyone else.
The Evil Queen isn't the only villain they have to contend with, either. "They know that Hyde is in Storybrooke, so they sort of have to figure out what his agenda is," O'Donoghue added.
New Worlds?
While O'Donoghue has enjoyed travelling to different worlds in the previous seasons, like Camelot, The Underworld, Neverland, etc., he agrees that this season will still be fun but different. He told us:"This season will be, in a different way, fun, because each character is going to have to sort of really delve in deep and figure out who they are as people." That isn't to say that you won't see other worlds this season. Dallas added, "You'll still see other worlds than Storybrooke for sure."
True Love?
Now that Emma and Hook know that what they have is true love, what happens next? "It's going to be complicated," O'Donoghue told us. "Now they have to figure out how they move forward."
It also came out in the panel that Hook has more secrets about things he's done in the past. According to O'Donoghue, Hook's secrets will "test some relationships", and will "make him reflect even more on who he was and who he is now." It's going affect "a couple of specific relationships that he has."
Blossoming Bromance?
Of course, since Dallas and O'Donoghue were together, we asked them how their on-screen relationship with each other would change."You're definitely going to see a more meaningful friendship grow between Hook and Charming," Dallas told us. However, it doesn't sound like all sunshine and roses. Dallas continued, "It just might get rocked by something later on."
When asked at the end if there is anyone they didn't get to work with enough in the previous season, Dallas coughed loudly as O'Donoghue claimed that he was "pretty satisfied." But on a serious note, O'Donoghue shared that he and Dallas will have "quite a bit to do together this season." "The bromance is back on and blossoming," Dallas added. Which is when I made sure to tell them that I planned to use "blossoming bromance" in my headline. Gentlemen, I keep my promises.
What do you guys think? Are you more excited for the new season? Let us know in the comments!
Once Upon A Time returns September 25th, 2016 on ABC