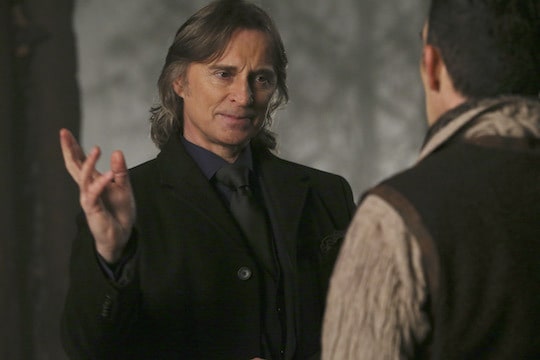 As we are entering into the remaining episodes of Once Upon a Time's fourth season, last night's episode was one of the strongest installments of 4B so far as we got fantastic focus on Robin Hood as well as one of the show's biggest twists in a long time.
I was surprised how little focus there was on Emma and her parents this week despite the major revelation she learned in the last episode. However, it was nice to get a little break from some of the Storybrooke drama, despite that we wanted to know desperately what the Author was up to. But this episode gave us a lot of backstory on what happened with Robin and his family once they arrived in New York, where we also discover that there was a major interaction between him and Rumple as we see the effects the real world had on him without magic.
I have been so-so on the flashbacks in the second half of Season 4, but this episode really made me care for it a lot, both for NYC and Emerald City. When I heard that Zelena was going to be featured in this episode, I was sold on the idea that she was only going to be in flashbacks. But man, was I wrong, as the episode revealed one of the season's biggest twists that Zelena was Marian in disguise and that the real Marian vanished during the Season 3 finale. Am I opposed to this in any way? A little bit, but I do admire Rebecca Mader a lot, so I don't mind seeing her back; it just depends on what they will do with her throughout the rest of the season.
The thing I took away the most from the flashbacks in NYC was the fact that we got to see Rumple at a fragile point throughout that period. Even though I'm not the biggest fan with his evil arc this season, I admire that we did get that element where the villain was almost down on his luck and had to make a deal with someone like Zelena in order to survive. That moment between Robin and Marian/Zelena almost gave me the hope that Robin would recognize that this was an imposter, mostly because the score in that scene kept building up to something. I guess Robin may be good at stealing, but he's not the best at noticing that something is up with the woman he loves.
The only thing that sort of bugged me was the ending, where they left it pretty open-ended as Regina seems to possibly change her mind on who she is willing to sacrifice: Emma or Robin. But we will have to wait till next week to find out who she will give up. Overall, this was one of the more enjoyable episodes in Season 4B , nd it was because it had so little Emma/Charmings drama in it and focused more on some of these other characters.
Once Upon a Time airs on Sunday nights, 8/7c on ABC.
[Photo via ABC]