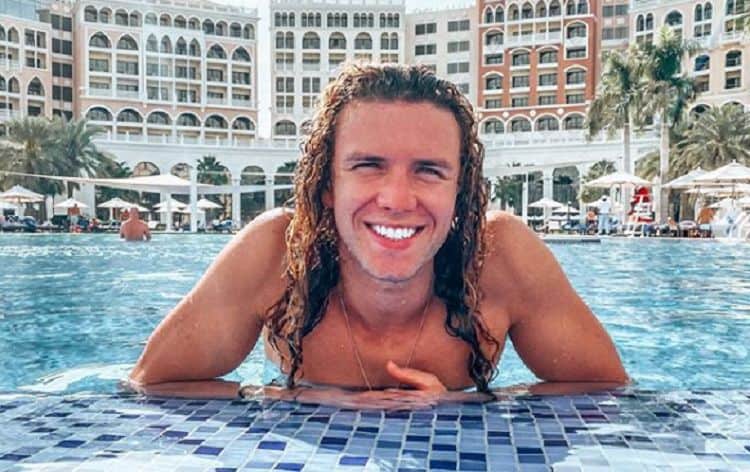 Tyler Crispen starred in the 20th season of reality show Big Brother which aired in the summer of 2018. He was a very popular housemate and it came as something of a surprise when he finished second behind Kaycee Clark. Here are ten things about him that you may not know.
1. He Used To Be A Lifeguard
Before he entered the Big Brother house he worked as a lifeguard. He has always had an interest in jobs where he has been able to help other people. During his role as a lifeguard he was also required to keep in shape which is something that he has always been interested in. He has always loved hanging out at the beach and this job allowed him to get paid to do that. Although he is no longer a lifeguard, he is still a regular visitor to the beach.
2. He Is Still In A Relationship With Angela Rummans
He and Angela had a 'showmance' in the house, but these relationships do not always continue off screen. However, this was not the case for Tyler and Angela and the couple have recently bought a house together. Fans of the show still take a special interest in the couple and refer to them as 'Tangela'. The couple told ET online that although there are no immediate plans to get married, they are sure that this will happen one day but it feels as if there is no rush at the moment.
3. He Was Born In Rossford, Ohio
Although he was born in Rossford, Ohio his family moved to Hilton Head In South Carolina when he was young. Coincidentally, Angela also lived in Hilton Head at one point but the two did not meet until they were both in the Big Brother house. This is somewhat unusual as the whole island is only 12 miles in length. After Tyler left the Big Brother house he stayed in Los Angeles to move in with Angela before they bought their own condo by the beach.
4. He Was Voted America's Favorite Housemate
He won the title of America's Favorite Housemate in the finale of Big Brother season 20. This would have helped make up for some of the disappointment of not being crowned winner. This title also came with a prize of $25,000. So many people were sure that Tyler would be the overall winner of the series that it did not really come as much as a surprise to the public that he was awarded this title.
5. He Hosted A Power Of Veto Competition In Season 21
He made a brief return to the house in season 21 of Big Brother, when he was the host of a Power of Veto competition. He was well-received by the contestants in the house and they were keen to learn from his experiences. He was able to chat with the contestants and he admitted that it felt a bit surreal to be back in the house. During the episode he starred in, a giant pool had been constructed in the back garden and so he was able to resume his role as a lifeguard for this part of the show.
6. He Was A Contestant On TKO: Total Knock Out
Big Brother was not his first TV appearance. He filmed an episode of Total Knock Out a few months before going into the house. However, in something of a coincidence, this episode did not air until he was already starring in Big Brother. This meant that was one evening of prime time entertainment where Tyler Crispen starred in more than one show. Even though this was a coincidence, then it is still something that he can boast about.
7. He Has An Estimated Net Worth Of $250,000
His estimated net worth is in the region of $250,000. Some of this wealth would have come from the prize money that he received from Big Brother. He and Angela have remained in the public eye since the show ended and this has led to income opportunities through public appearances and endorsements of brands. More details about his net worth can be found on Walikali.
8. He Puts A Lot Of Emphasis On Keeping Fit
Many of his hobbies are sports and fitness related. He listed surfing and working out as two of his hobbies on his character profile when he first entered the house. This fitness routine is something he has been keeping up with since he left the house. Angela also has an interest in sports and fitness and so working out is something they enjoy doing together as a couple.
9. He Would Not Rule Out Going Back Into The Big Brother House
Although he has said he would not be interested in doing reality TV again, he would make an exception for Big Brother. He believes that this show is the very best reality TV program on TV and that appearing on any other reality show would be a step backwards. He has made a guest appearance on season 21 but would like to go back for a longer period than that. If Big Brother were to do another All-Star season then there is a good chance that he might be invited to star on this, although Angela has said that she would like to be invited to as she would miss him too much otherwise.
10. He Has Recently Started His Own Jewelry Company
He has recently launched his own jewelry company with Angela as his business partner. He made the announcement regarding the launch of his company on Instagram. The company is called Naut And Chain and the jewelry they sell is all inspired by the ocean. There are a large range of products available which can be viewed on the website. As well as jewelry the company also sell other accessories. This is a venture that he and Angela have taken on together and is something else that shows how committed they both are to the relationship.