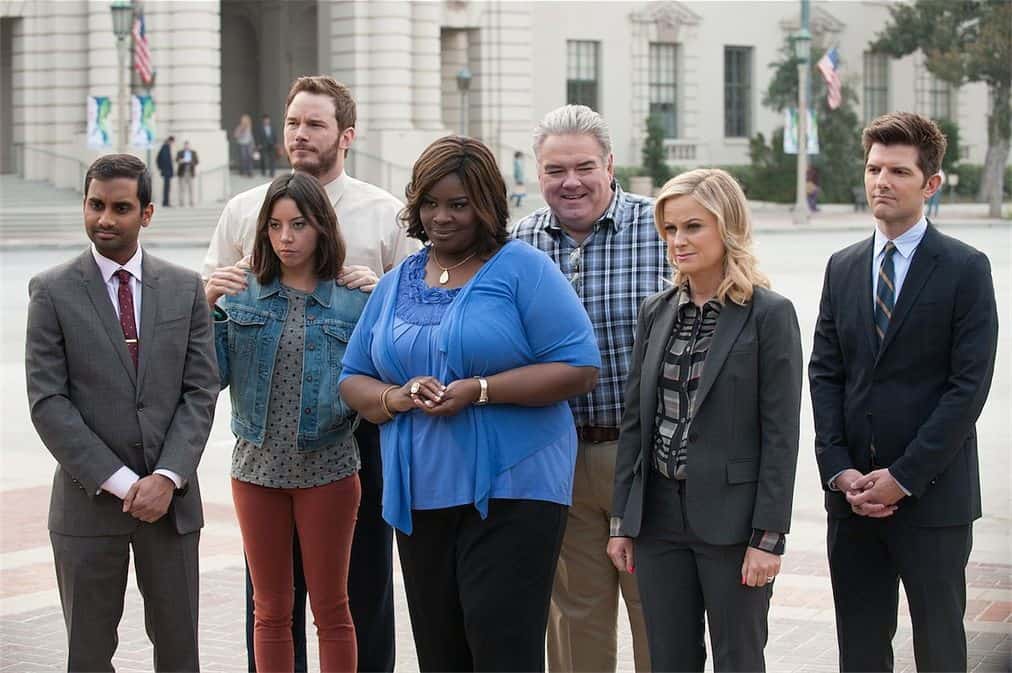 It is hard for me to write these words, but in less than one month Parks and Recreation will be no longer. The comedy that stars Amy Poehler, Chris Pratt, and many other talented actors will conclude its seven season run on February 24th. The NBC sitcom was never a ratings winner, but it delivered plenty of laughs over the course of 125 hilarious episodes. However, if you are like us at TVOvermind, you are not ready to say good-bye to Leslie Knope, Ron Swanson, and the rest of this lovable gang just yet. We thought it would be a good idea to send these characters to other television series so they can continue to make us laugh for many television seasons to come. Here is a list of the shows your favorite Parks and Recreation characters should move to once the comedy takes its final bow.
Leslie Knope (Amy Poehler), Scandal
Wouldn't you love to see Leslie Knope on Scandal? After watching her for seven seasons on Parks and Recreation, we know that Leslie has a love for the government. It would only seem fitting to have her relocate to Washington D.C. and work with Olivia Pope at her Crisis Management firm. Scandal is more dramatic so it would be very welcoming to have a little bit of kookiness added to the storylines. Leslie gives 110% in anything she does, so Olivia would be stupid to not hire her for her team. Leslie's husband Ben would have to relocate to Washington D.C. to be closer to his wife, so why not have him star on…
Ben Wyatt (Adam Scott), Bones
Ben Wyatt would make a great addition to Bones. Though his background is in city government, that does not mean he would not be a welcomed addition to the storylines on this long-running FOX drama. One of the things that makes Bones such a great procedural drama is the inclusion of humor in each episode. Some of that humor has disappeared with the exit of John Francis Daley as Dr. Lance Sweets. Perhaps, Ben could become the City Manager of Washington D.C. He would manage the city's budget and begin to notice that there has been too much spending in the lab at The Jeffersonian. He would be able to work with Brennan and the Squints to make sure they are not wasting government dollars on unnecessary experiments. We are talking about you, Hodgins!
Ron Swanson (Nick Offerman), The Middle
Ron Swanson would not have to relocate very far to make the move to The Middle, since it is located in Indiana just like Parks and Recreation. Ron likes the outdoors and being alone, so he would make a good high school buddy for Mike Heck to start hanging out with once again. The two could spend hours in the garage constructing things out of wood and eating bacon. Mike would have to make sure that his daughter Sue does not bother them because that would be too much happiness for Ron to take in after working with Leslie Knope for so many years.
Andy Dwyer (Chris Pratt), Brooklyn Nine-Nine
Remember when Andy wanted to be a cop on Parks and Recreation? Sadly, he did not pass the personality portion of the exam in Pawnee. Well, now is his chance to make a career move and try to pass the test in NYC. Though he is currently starring in his own children's television show, he could make the move to New York City and work with Jake Peralta keeping the citizens safe. His humor would fit in perfectly at the 99th precinct. Andy's alter-ego Bert Macklin would also be a welcomed addition on this awesome comedy.
April Ludgate (Aubrey Plaza), The Mindy Project
If Andy is heading to New York City to start a new career, his wife April will have to relocate with him. April has been trying to find herself and what she should do with her life on the final season of Parks and Recreation. She could have an epiphany of wanting to become a doctor. She enters a pre-med program at NYU and gets a job at Schulman and Associates and works for Dr. Mindy Lahiri. Her hatred for everyone would mesh well with Beverly in the office and would be a perfect for the wide range of crazy personalities frequently showcased on The Mindy Project.
Tom Haverford (Aziz Ansari), Mom
Tom Haverford has become a successful restaurateur on Parks and Recreation. His personality has always seemed a little too big for Pawnee, Indiana. He decides to make the move to California to open a restaurant in the wine country of Napa, California. He ends up hiring Christy to work at the restaurant after she quits her current waitressing job. Tom becomes involved the storyline as she works her way through college to try and obtain her law degree. Plus, Tom is more likable than French Stewart's Chef Rudy who is currently one of Christy's co-workers on Mom.
Donna Meagle (Retta), Revenge
We know that Retta is a fan of Revenge, so why not have the character she plays on Parks and Recreation star on the ABC drama. It might save it from cancellation if Donna Meagle moved to the Hamptons to spice things up. Donna could become Emily's new BFF, whom she starts to share all of her secrets with her. We know Donna loves to hear the latest gossip. In return, Donna could take Emily out for a "Treat Yo Self" day. It would be a win win for both parties.
Jerry Gergich (Jim O'Heir), Modern Family
Jerry is no stranger to being made fun of on Parks and Recreation. He would fit right in with the Pritchett/Dunphy crew on Modern Family. Jerry is Phil's Uncle, who decides to move to California after he retires from his government job in Pawnee. We now know where Phil get his clumsiness from as Jerry continues to be the awkward and uncoordinated guy we always loved to pick on.
What show would you like to see you favorite Parks and Recreation character on once the series ends ? Let us know in the comments section below.
[Photo via NBC]