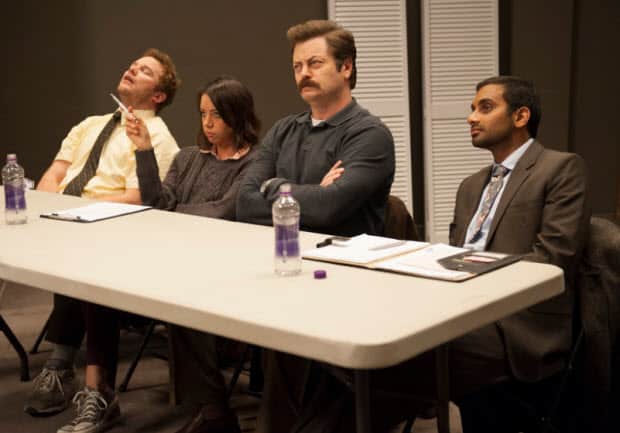 Last night, Parks and Recreation had its 100th episode. For a little-watched show that has averted cancellation year after year, this should be a time to celebrate just how much the Parks and Rec team has achieved, and in a way, the series itself did that, not by throwing hilarious joke after hilarious joke at us (if I have one issue with this episode it's the fact that it didn't make me laugh nearly as hard as the episode of Community before it did), but by showing us how far each of our favorite characters has come by giving pretty much all of them some pretty big individual moments.
The four central people that last night's Parks and Recreation episode, "Second Chunce," focused on were Tom, Chris, Ann, and, of course, Leslie. After selling his Rent-A-Swag business away, Tom spent most of the episode looking for great ideas from everyone (even Larry) that would help him finally become the rich business man that he desired to be.
Eventually, however, even after coming up with the revolutionary "Talking Tissues" (Andy's reaction to them, by the way, was the funniest moment in this episode for me), Tom didn't need anyone else's money or influence to help him find what he wanted. Without the help of Jean-Ralphio (who we see is still living with his father, continuing to mooch off his money) or anyone else, Tom decides to become Pawnee's own business liaison, a profession that Ron Swanson even approves of (even if he doesn't like French words).
While Tom has always wanted financial success, it could be argued that Ann Perkins has always wanted familial security, a loving relationship with a man who cares about her and a child that they can raise together. Even though I've had some issues with the Chris and Ann pregnancy storyline this season (as it has felt slightly rushed to ensure that Rashida Jones and Rob Lowe's exits after episode thirteen have valid character reasons behind them), watching the two of them find out that the child that they are having together is going to be a boy was a lovely, touching moment.
When Parks and Recreation started, Ann was an unhappy nurse stuck with a lazy, man-boy for a boyfriend in Andy, and during most of his time on the series, Chris has bounced from woman to woman, looking for that proper, fulfilling connection that almost always was too elusive to find. Now, through their relationship with each other and the soon-to-be birth of their child, both Ann and Chris have found the stability and security of the family and love that they have always wanted.
But while it's pretty clear what Tom, Ann, and Chris's goal are, one big question still remains: what does Leslie Knope want? "Second Chunce" takes place during Leslie's final day in the city council office, and she is so defeated, so desperate for a second chance at office that she considers moving into another district just so that she can run against City Councilman Dexhart, who is enduring yet another scandal. As Ben and almost everyone else in the episode tell her, it's a bad idea, not because Leslie isn't strong enough to win, but because the entire endeavor is just too risky due to the underhanded sneakiness of politics. Leslie has always risen above that corruption, keeping her optimism and morals intact, even as she is being beaten down by the vicious, unwarranted attacks of her opponents.
And it's that strength, determination, and fortitude (plus $1200 for the hour) that have Kathryn Hahn's Jennifer Barkley returning in Parks and Rec's 100th episode to tell Leslie that she's not finished, not by a long shot. Her time as a city council member may be over, but there's still state senate, federal jobs, and maybe even Congress. It's all a possibility for Leslie Knope because of the journey that she's undergone over the course of these 100 episodes, both her accomplishments and failures. She's no longer the unlucky-in-love, overly idealistic caricature of woman that we met in Parks and Rec's first season. No, as we see in the episode's closing moments, Leslie has found someone in Ben who is just as strong, kind, and passionate as she is, a person that she can enjoy a trip to Paris with. It's not just her work anymore that motivates her to succeed and to keep striving to do better. It's knowing that she has something, someone, to lean on when the work is over.
Other thoughts:
It was so great to have Chris Pratt back as Andy in this episode. His opening scene with April put a big goofy smile on my face to start the episode, and anytime he was on screen, that smile returned. Andy has been missed for so much of this season, and I hope that he remains throughout the rest of it without any more absences.
Anyone ever "tex-mext" at Chili's To Go?
Chris has perfected the art of shaving a man's face and wants to pass that down to his and Ann's son. Because of course he does.
"When she walked past me this morning, I gave her a kind nod." That's Ron Swanson being supportive, everyone.
"Do you know anything from the Requiem for a Dream soundtrack?"–Ben attempting to find the appropriate song for a singing telegram to Leslie.
"It has been an honor to serve this town. Thank you." Leslie's press conference was my favorite moment of the entire night.
What did everyone else think of Parks and Recreation's 100th episode?
[Photo via Colleen Hayes/NBC]