When Loki, the demigod of mischief and the master of sass, finally landed his very own TV show, audiences were thrilled. Boy, were they not disappointed as it went on to deliver on more levels than one. The show takes viewers on a wild ride through time, with twists and turns that even the god himself couldn't predict. It's a marvel (pun intended) to witness the character development of Loki, played brilliantly by Tom Hiddleston. But with Season 2 well on its way, it's natural to want more and the good news is that there are TV shows like Loki out there that can give you just that.
Whether it's the sly wit, the unexpected plot twists, or the complex characters, there's something about Loki that has people hooked. These same elements are scattered across genres (mostly fantasy) and will have you binging on these suggestions. So, without further ado, let's delve in.
1. The Umbrella Academy
Perhaps what really draws you to Loki is the exploration of identity and self-discovery. In that case, The Umbrella Academy could be right up your alley. What sets the show apart is its quirky and unpredictable storyline that keeps viewers guessing at every turn. Altogether, it's filled with unexpected plot twists, witty humor, and visually stunning action scenes that captivate any fan of the superhero genre. With its stellar cast performances and compelling narrative, The Umbrella Academy has garnered a dedicated fanbase. When you consider the show's dysfunctional family of super-powered misfits and its exploration of destiny and free will, it gives off strong Loki vibes that'll reel you in. There's also that touch of dark humor that's reminiscent of what the god of mischief offers up.
2. Good Omens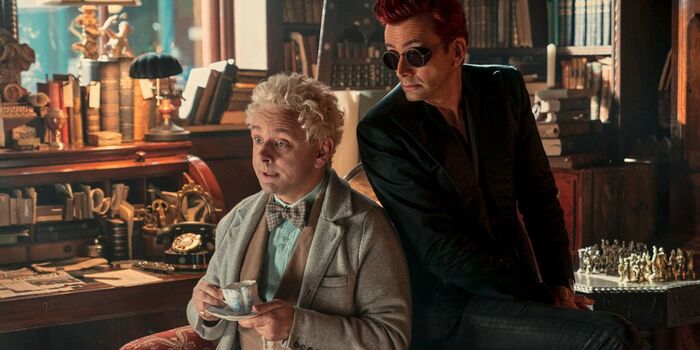 Now, this show is an absolute treat for anyone who loves supernatural storylines, witty humor, and mind-bending plots. Good Omens beautifully blends fantasy, comedy, and drama to create a one-of-a-kind viewing experience that will leave you on the edge of your seat. The dynamic between the angel Aziraphale (Michael Sheen) and the demon Crowley (David Tennant) is nothing short of mesmerizing. Even more, their unlikely friendship is at the heart of this captivating tale. With its charismatic characters and clever storytelling, Good Omens is a must-watch for anyone craving a show that's as clever and mischievous as Loki. Whether you're a die-hard fan of Neil Gaiman's original work or simply enjoy a well-crafted, imaginative series, Good Omens has something for everyone.
3. Lucifer
Just like Loki, Lucifer explores complex relationships and moral dilemmas. The character dynamics and clever storytelling make it a must-watch for fans of Loki. Plus, the humor and quick-witted banter between characters will leave you laughing and craving more. Additionally, the supernatural elements parallel the mystical world of Loki, adding an extra layer of excitement for fans who love a good dose of magic and mystery. From celestial beings to dark prophecies, the show weaves an intricate web of supernatural intrigue.
4. Shadow And Bone
This thrilling fantasy series, based on the "Shadow And Bone" trilogy by Leigh Bardugo, is a perfect blend of magic and adventure. Set in the war-torn land of Ravka, Shadow And Bone follows the journey of Alina Starkov (Jessie Mei Li). She's a young soldier who discovers that she possesses a rare and powerful gift that could save her homeland. As she trains with the elite Grisha, she uncovers shocking secrets about her past and her abilities. The show's rich world-building, complex characters and gripping plot twists will keep you on the edge of your seat, just like Loki's mischievous antics. With its compelling storytelling and a dash of romance, Shadow And Bone is a must-watch for anyone craving an epic fantasy adventure.
5. The Boys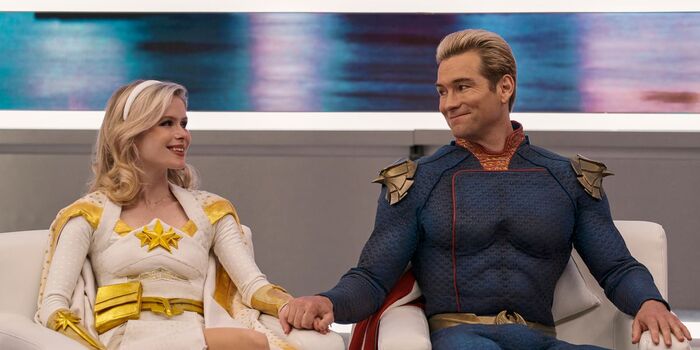 If you loved the clever mix of action, humor, and antihero vibes in Loki then The Boys is a must-watch. This show takes the superhero concept and flips it on its head. In the process, it gives viewers a gritty and darkly comedic take on what happens when superheroes abuse their powers. It's a non-stop rollercoaster of jaw-dropping moments, snarky dialogue, and a constant barrage of "Did they just do that?" scenes. Just like Loki, The Boys is full of complex characters that keep you guessing and eager for more. Get ready for a world where superhero powers come with a price and nothing is ever quite what it seems.
6. American Gods
If you're looking for a familiar blend of mythology and mischief, American Gods might just be your cup of mead. This mind-bending fantasy series, based on Neil Gaiman's novel, takes viewers on a thrilling ride through a world where ancient and modern deities coexist. Like Loki, this TV show brilliantly explores the concept of faith and power, weaving together elements of mythology, mystery, and the supernatural.
American Gods boasts a stellar cast, captivating storytelling, and visually stunning cinematography. The clash between the old and the new gods makes for a riveting narrative, filled with unexpected twists and turns. If you're a fan of intricate world-building, complex characters, and thought-provoking themes, then American Gods is a perfect fit.
7. Preacher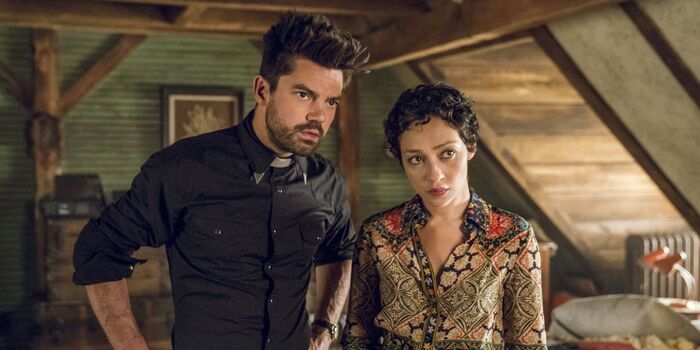 Love the thrill and supernatural elements in Loki, then Preacher is the perfect fit. The show is electrifying and action-packed, sound familiar? Just like Loki, Preacher delves into the realms of the mystical and the unexplained, taking you on a wild ride through a world where anything is possible. The show's blend of dark humor, intense action, and mind-bending plotlines are intriguing. Altogether, Preacher is a refreshing and innovative TV show that pushes the boundaries of conventional storytelling, much like Loki.
Tell us what's wrong with this post? How could we improve it? :)
Let us improve this post!