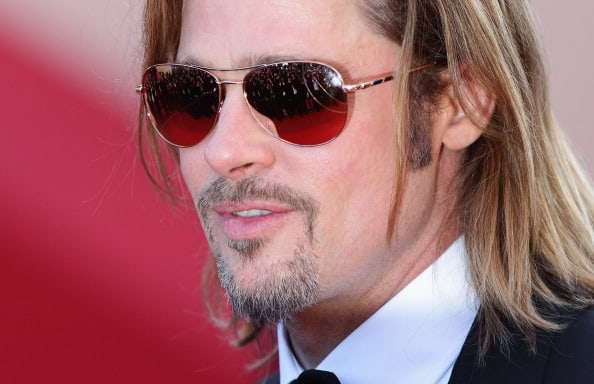 Brad Pitt is one of those guys who was just born a superstar. He has been acting since his youth (as you will come to see here) and has appeared on far more mainstream TV shows than we think most people are aware of. When you think of Brad Pitt, you think of a movie like World War Z or True Romance, but you rarely associate him with things like the sitcom. Well guess what? Brad Pitt has been on everything from Growing Pains to Friends. Here are five TV shows Brad Pitt has been in at some point on his career, not counting talk show appearances.
Growing Pains
This was the first time I ever saw Brad Pitt. It was on the sitcom Growing Pains and he was playing a rock star version of his exact self who was a huge inspiration to Ben Seaver. The whole plot line revolved around the fact that the guy was actually a jerk, and how he made Ben Seaver lose faith in the ideals of celebrity worship. How ironic, huh? Worth seeing just for his haircut and how much of a tool he plays.
Dallas
Not only was Brad Pitt in the nighttime soap opera, Dallas (which was hugely popular in the 80's), he also got his first kiss on that show. Well, first on-screen kiss, anyways. I would tell you the actress's name but she has faded away into obscurity and it would matter little now.
MTV's Jacka**
Many people still think the bit the Jacka** guys did where they all jumped out of a van in masks and kidnapped Brad Pitt off a sidewalk in Hollywood into a van and drove away was one of the best bits the Jackass guys ever did. Truth is, it also showed us Brad Pitt was as cool in real life as he was in movies (as the whole thing was his idea). Just watching the people on the street standing there in shock as the van pulls away is some instant classic stuff, for sure.
https://www.youtube.com/watch?v=HBLioZA2Tus
Friends
Remember the time Brad Pitt was married to Jennifer Aniston? Yeah, either does he. Hahahaha. No, but seriously, he thought it would be cool to appear on the show was famous for, Friends. The best part, he played a FFG (former fat guy) who Rachel dissed in high school, and was actually really, really funny in the episode. It was a Thanksgiving themed episode and is well worth looking up if you ever forget how genuinely funny he can be between all his serious roles.
https://www.youtube.com/watch?v=0UMNDimKskg
King of the Hill
Did we just blow your mind? We feel like we may have just blown your mind. Yes, mister Brad Pitt played a character on one episode of this oddly funny show. The king of cool playing the opposite. Kind of funny when you look at it that way. He voiced Patch Boomhauer in a 2003 episode of the cult TV show. Throw that one out at trivia night to really blow some minds.
God bless that man.
Photo by Vittorio Zunino Celotto/Getty Images
Tell us what's wrong with this post? How could we improve it? :)
Let us improve this post!