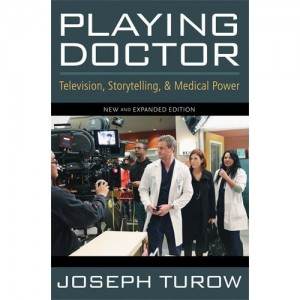 There's a common complaint that people don't read enough because we now have TV and movies. I'd agree that people need to read more, but who's to say the two can't coexist? There are plenty of great books for the TV fan, either related to TV itself or something you've seen on the small screen. Thus, we here at TVOverMind have started the TV Book Club to bring you a monthly glance at something you should be checking out – at your local bookstore. (Just without the fancy Oprah sticker.) This month, I've selected Playing Doctor: Television, Storytelling and Medical Power by Joseph Turow, recently updated, expanded and re-released by University of Michigan Press. For fans of medical dramas such as ER, Chicago Hope, House, or Grey's Anatomy, Turow has provided a detailed look into how our relationship with fictional doctors affects the one we have with our real health care professionals…and that's just one of many topics he touches on.
This book intrigued me from the start, since I've watched several of the shows it references. It's interesting to see a book that really talks about how what we see on TV shapes our perceptions of how real life should be. It most definitely does – look at how episodes of Law & Order and CSI seem to have gotten everyone thinking they're lawyers or detectives – but this book is one of the rare ones to truly delve into that relationship, and not just in how TV influences us, but in how we then take that influence and end up changing how we interact with others (in this case, medical professionals). It also discusses how the creative teams behind TV shows worked with doctors and consultants to make their series, and every other angle of that you could possibly consider. It doesn't require a medical degree to understand, either. If there's one thing I can pass on to the masses from reading this book, it's that having seen every episode of House does not mean you can self-diagnose your own ailments, so please stop trying. (House would've been fired about a million times over by now anyway.)
What I didn't expect from Playing Doctor is that it doesn't just confine itself to talking about the medical field. In the introduction alone, there's an analysis of how the business of television works, and how people have tried to manipulate it to their advantage (such as how one doctor wrote himself into a script for a medical drama to promote his own product). There's some interesting stuff here about how business attempts to exert pressure on the media to put out the images and messages that they want to reach the general public; none of it is exactly revelatory for those of us who understand the business of entertainment, but it's good information that bears keeping in mind, especially to fans who've ever uttered the word "boycott" in relation to anything on TV. You'd be surprised how ineffective that really is, and Turow sheds a light on that in his book.
Playing Doctor is fairly comprehensive, and covers shows all the way back to the beginning of medical dramas, probably well beyond the time of most modern TV viewers (though that's not going to hamper your enjoyment of the book, it may bore some people who have no interest in TV history); this is in part because Turow wrote the original edition in the 1980's. Of course, it doesn't cover everything; as a Third Watch fan, I was curious to see what he'd say about the doctors and paramedics from that show, only to find that it wasn't discussed at all – merely included on a list of all the medical TV shows at the back of the book.
Whatever your medical show of choice is, chances are you'll find something here. Turow has interviewed a veritable who's who of medical professionals and TV types, whether it's Neal Baer (Law & Order: SVU), David Foster (House) or Shonda Rhimes (Grey's Anatomy). Again, it's by no means an exhaustive list, but there are enough interviews here from enough shows that you'll find someone whose name you at least recognize.
Like all scholarly books, however, this one requires an investment of time and critical thinking. It's almost 400 pages long, and every page is dense with material that isn't always easy to digest, given the complex subject matter. You may have to reread in places to make sure you understand what's being presented. This isn't the kind of book for someone who just wants something to only half pay attention to. At just over $25, it's also a sizeable investment over the standard $8 TV tie-in novel. However, if you're really curious about what goes into a medical drama and what comes out of it, and how those things affect the real-life medical world, Playing Doctor is a great investment. I certainly won't be looking at those reruns of ER the way I did before I read it, and that to me is a worthwhile read.