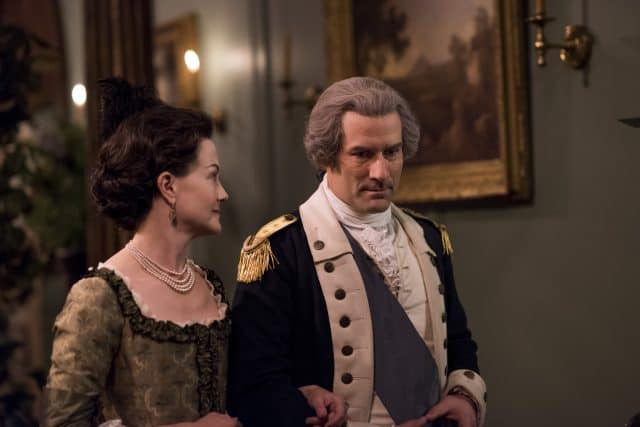 All hope is seemingly lost for our band of merry spies. "Seemingly", of course, being the operative word in that sentence. After all, the show is called TURN: Washington's Spies. If Culper & Co. are truly finished, then what will the show be about? No, I think there is plenty left in the tank of the spy ring, they simply need new information to pass. Benedict Arnold hasn't even turned yet, so there's that. Even though I'm certain they will all spy another day, the remainder of the season looks to be as action-packed and tense as the show has ever been.
This week, on TURN: Washington's Spies: Abraham puts Simcoe on to Rogers' trail, then races to beat him to Oyster Bay. Washington decides that his camp should deal directly with Robert Townsend from now on, eliminating Abraham from the ring. Benedict Arnold, desperate to be wooed by one side or the other, throws a party at his home, in George Washington's honor. Peggy hears news of Major Andre's new love.
Other than the stand-off with Rogers at the Townsend home, this wasn't the most action-packed episode TURN has ever done. But, what made it exciting to me was the inevitable fallout that's going to occur from everything that happened. And a LOT happened.
I thought Abraham was already reckless, but being out of the ring? Yikes. That's going to make everything ten times worse. I anticipate that he will be much more cavalier in terms of trying to obtain information and make himself relevant again. But, that should make things pretty interesting for the show, should it not? If it leads to the sort of chaos that ensued at the Townsend home in this week's episode, I am all for it.
The Townsend home scene, itself, was one of my favorites of the season. All of the tension between several parties boiled over, and it brought Abe, Anna, and Caleb together with Townsend (times two) and Rogers, and it was just a great scene.
Owain Yeoman remains a powerful force in this show's arsenal. Paired with Ian Kahn, who has scarcely been seen this season, Arnold and Washington make anything and everything watchable. Yeoman's Arnold captures the conflict within Arnold that feels so realistic. Arnold doesn't just get mad and switch sides, but he's simply a man that's looking to be admired and respected, which is a plight Washington can clearly get behind.
We also saw the presidential side of Kahn's Washington in this episode. Not only did we catch our first glimpse of Martha who would be Washington, but Washington's desire to please and help people was thrust to the forefront, as Kahn gracefully re-took center stage after a long absence from it. Washington being on the show simply makes it better, and much more interesting to watch. In that vain, his return to the forefront did not disappoint.
Though a little jam-packed, this episode of TURN proved to be a well-acted, well built predecessor to what is surely inevitable fallout in the coming episodes. I hung on to every moment and I quite enjoyed this episode.
Only a few more episodes left! What did you guys think? Did you enjoy the episode? Let us know!
TURN: Washington's Spies airs Mondays at 10/9c on AMC
TURN: Washington's Spies Season 3 Episode 6 Review: "Many Mickles Make A Muckle"
Summary
Abraham gets into more than one sticky situation, as Benedict Arnold throws a party on this week's strong episode of TURN: Washington's Spies.