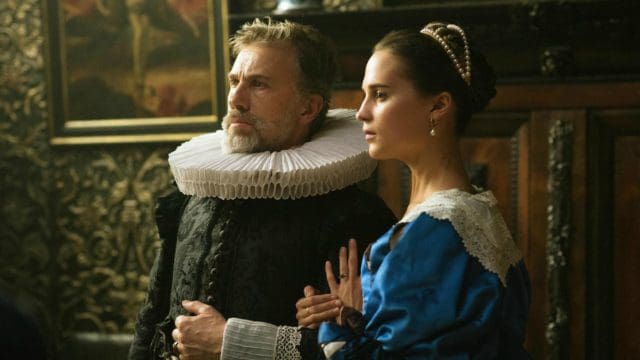 Tulip Fever is a historical drama film about a 17th-century painter in Amsterdam who falls in love with a married woman whose portrait he has been hired to paint. The film is directed by Justin Chadwick (The Other Boleyn Girl) and stars Alicia Vikander, Dane DeHaan, Christoph Waltz, Judi Dench, Zach Galifianakis, and Jack O'Connell. The film was distributed by The Weinstein Company. It was shot during the summer of 2014 and was finally released last September 1, 2017.
As I've noted, the film was shot last 2014 and it took them around three years to finally release the film. The film has been re-edited many times until the final version that we've all seen. It was also distributed by TWC, before the sexual allegations expose against Harvey Weinstein. With the fact that a film shot three years ago and re-edited many times was only released until now, it should show that the film is in deep trouble and the results are more likely to be disappointing. I recently watched the film and I can confirm that it was really disappointing. The 8% score on Rotten Tomatoes should have warned me already, but I wanna see Alicia Vikander on a leading role.
My number one problem about Tulip Fever roots down on the bible of every film: the script. I think whatever editing that they might have done on the film, it will not work as the writing was weak and the plot was too excessive. The dialogues were also corny. I guess the problem about the film was already present before they shot it. It needs more tweaking to make it a more interesting story and more understandable. One of the problems that I encountered watching is that I cannot understand what the story is really all about. There are too many storylines and characters. I don't know if this character has an affair to this characters or this character is actually the real wife…or something. I don't know. It's a very complicated story which led me to say that the plot is excessive. I also don't understand if religion is actually a theme because we see them getting religious but it looks out-of-a-blue. As I've noted, the dialogues were corny. They were very uninspired and I consider it as one of the weak spots of the film which also resulted for it to become a disappointing picture.
The film has an all-star cast. Three of them are Oscar winners. Vikander, who is a rising star during the time it was shot, was great but, of course, it could have been a better material. Thank God that she worked on The Danish Girl somewhere after she did the film. Dane DeHaan is also supposed to be a great leading man but this film proved it otherwise. Christoph Waltz is playing Christoph Waltz, but, just like others, it could have been a better material. Dame Judi Dench is also part of the film, playing an abbess. She was great but I can't believe that she is part of this. I also want to point out Zach Galifianakis being part of the film. Actually, you won't even feel his presence in the film as he didn't have a lot of screen time. I don't get it why they cast Galifianakis on the part. We also see minor roles for Matthew Morrison and Cara Delevingne. They were also both wasted. Morrison, who is an American actor known for his iconic role of Will Schuester on Glee, is obviously playing with an English accent. I heard they offered the role first to Harry Styles, but that would have also be a bad idea. Delevingne was also wasted, but she and DeHaan got to work on a better material together through Valerian and the City of a Thousand Planets which was also released a few months ago.
Overall, Tulip Fever is indeed a "fever" to watch. I watched it with the knowledge that it has been called out by the critics as a terrible film. Also, this is one of the last TWC films before their downfall. There is some sort of irony in that part. Gladly, Vikander, DeHaan, and Delevingne got to work on a better material after working for the film.