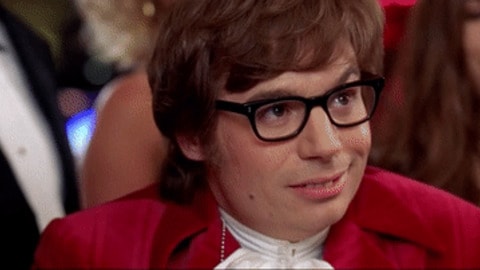 It's kind of amazing how we never got the real origin of how Austin Powers came to be up until a while back. Apparently the character was created by Mike Meyers as a persona for his faux 60's rock band, Ming Tea. Not long after that his wife professed to loving the persona so much that she encouraged him to write up a film about the character. And the rest, as they say, is history. The spoof movie has been viewed so many times that there are those who could easily recite one line after another and possibly even nail the different accents if they really tried. What's funny about it however is that Meyers never meant to play so many roles in the films. He tried to get Jim Carrey on board for the role of Dr. Evil, but unfortunately Carrey had to refuse since he was still filming Liar Liar.
Austin Powers became such a huge sensation that he spawned two sequels that were just as packed with celebrities as the first one had been, though the story began to degrade just a bit as time went on. Each film was still amazingly funny but one could tell that the craziness was beginning to wear a bit thin. Plus in true spy fashion it would seem Austin had a new woman each movie and as a plot device this didn't work on a lot of levels though it's been seen to happen in so many Bond films. The spy gets the girl, makes love to the girl, professes to be head over heels for the girl, and when the next movie comes the girl is either gone, dead, or just somehow taken from his life with him being none the worse for wear after it.
Daniel Craig might be an exception to this but Austin Powers certainly wasn't. He did get closure with the first woman but not with the second. After all Vanessa turned out to be a fembot whereas Felicity just kind of up and left. That left the opportunity to latch onto Foxy in the third film, and of course that all went to plan as she and Austin were seen together at the last part of the third movie. But despite rumors of a fourth film being in the works it doesn't seem like it would work all that well since Dr. Evil has gone good and Scotty is really not much in the way of a villain since, well, he's a knockoff of his old man, Dr. Evil. Whereas Dr. Evil wasn't all that good at being a bad guy, Scotty is even worse. It just seemed a good idea to wrap it up with Goldmember and move on.
Plus if Meyers had to keep playing three or four characters per film it would no doubt be a lot of stress on him that would take its toll eventually. As it was he was running around doing four different parts for the last film.