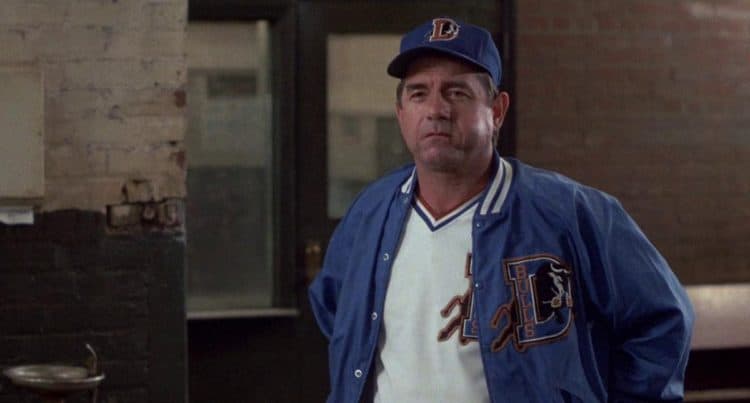 A great character actor is one that enhances a story without diverting the narrative. They elevate a piece while existing as a construct of it. Someone who steals the show while remaining anonymous. In the 1980s, Trey Wilson epitomized the subtle brilliance of the character actor. Unfortunately, the Houston born actor unexpectedly succumbed to an arterial vascular malformation in 1989. Wilson was just 40 years old at the time of his death and had not yet begun to enter his prime. If the name doesn't ring a bell, his unforgettable performances are sure to jog your memory. Amid a brief but powerful career, this is Trey Wilson in three roles.
Nathan Arizona – Raising Arizona (1987)
Trey Wilson occupies less than 12 minutes of screen time in the cult Coen Brothers classic but he owns every bit of it. As the father of a kidnapped newborn, Wilson crackles with sincere anger and genuine concern. His performance is the archetype for the combination of eccentric self-rationalization and perfect comedic delivery. This combination would become a staple of Coen brother works for decades to follow. Walter Sobchak comes to mind.
Of the many classic lines delivered by Wilson in this dynamic performance is a timeless tirade directed towards the FBI. He shouts: "Dammit! Are you boys gonna chase down your leads or are you gonna sit around drinking coffee in the one house in the state where I know my boy ain't at?" When told by the FBI that they don't have any leads yet, Nathan erupts, "Goddammit! No leads? Everyone leaves microbes and whatnot. Hell, that's your forte ain't it, tracking down them microbes left by criminals and commies n' shit! That's your whole God-damn raison d'être, ain't it? No leads? I want Nathan Jr. back! Or whichever the hell one of 'em they took! He's out there somewhere. Something leads to him!"
Trey Wilson as Nathan Arizona is memorable for all the right reasons. As author and entertainment writer Andrew Dansby states, "it's one of the great comic performances in American cinema: fluid, nuanced, physical, witty, cerebral, surprising and at the end of the film, touching". A Wilson staple was successfully illuminating the decent and caring center of a character through the boisterous and brusque exterior. No better Trey Wilson example exists of this precious talent than his title role in Raising Arizona.
Joe Riggins — Bull Durham (1988)
Trey Wilson unsurprisingly plays a minor role in a movie about a minor league baseball team. Also unsurprisingly, he puts together a major performance. As the manager of a fledging Carolina A-ball team, Wilson radiates equal parts baseball man, disciplinarian and father with his signature gruff, compassionate fervor.
After he tells the team's sage veteran that he doesn't know how to reach the team, relating that: "I beg. I plead. I try to be a nice guy"; the aged player's answer is simple, "scare 'em". This advice inspires one of the all time greatest diatribes by any coach or manager in the history of film. To finally get through to his players, Wilson's Joe Riggins hurls a bunch of baseball bats at his team as they are showering. After demanding that the rest of the team join their terrified brethren in the showers, Manager Riggins commences his immortal "Lollygaggers" rant. At the end of the scene, the Skipper spells things out as plain as possible for his young team: "This is a simple game. You throw the ball. You hit the ball. You catch the ball. You got it!"
Wilson, as Riggins, "had a routine for breaking bad news to a cut player: Light a cigarette, tell him to close the door and gruffly admit to carrying out a manager's toughest job. But those scenes lasted only minutes. As always, Wilson played a minor role and he was thrilled to be playing it" (Dansby). An underlying theme of Bull Durham is that professional baseball is a business yet at the heart of that business beats ordinary people. Wilson perfectly captures that heartbeat with his humanity. It doesn't hurt however that those heartfelt sentiments are delivered in the guise of rugged comedic genius.
Sam Phillips — Great Balls of Fire! (1989)
Great Balls of Fire! is the biopic of music icon Jerry Lee Lewis and in it, Trey Wilson portrays an icon himself. In support of Dennis Quaid as Lewis, Wilson plays "legendary music producer Sam Phillips with understated, yet devious Southern charm" (Dansby). In a business where the bottom line is the amount of records sold, Wilson as Phillips imparts this quality honestly and flawlessly. With a most unadulterated manner, Wilson captures Phillips' candid style. Upon his initial exposure to Jerry Lee's first demo, Phillips slyly exudes, "I can sell that".
During the film, there is a scene where Jerry Lee's cousin, played by John Doe, bursts into Sun Studios brandishing a gun. The irate Doe is looking for Jerry Lee because he has just learned that he has married his 13 year old daughter (a true fact by the way). Phillips characteristically defuses the situation with a combination of charismatic intelligence and astute allure. Of the powerful sequence with Wilson, Doe recalls: "The one thing I really remember about that scene is that he was sort of at the center of it. He gave you that sense of support. My character stormed in with the gun, but he was leading the scene more than I was, directing it without being the actual focus of the scene. It was quite a feat". Leading the scene without being the actual focus of it; that was Trey Wilson.
Epilogue:
Trey Wilson exuded a natural authenticity and a sincere presence. He was not a comedian but his comedic instinct was undeniable. Trey Wilson was not just a character actor; he was an actor's actor. As Great Balls of Fire! costar John Doe stated of Wilson: "During the shoot he was the guy that people were always asking me about. He was one of those actors like Harry Dean Stanton for people in the know, he's the one they wanted to know about."
Among other notable roles in Wilson's brief oeuvre is the devilishly amiable Beetroot McKinley in 1988's Twins and wry Regional Director Franklin in Jonathan Demme's Married to the Mob, also from 1988. One year later, Donald Yearnsley Wilson III "was buried on his birthday, January 21st. Randy Quaid and another old Houston acting friend, Brent Spiner, were pallbearers along with Wilson's cousin, Kim Brimer. Sam Phillips flew in from Memphis to attend" (Dansby). In 1992, Jonathan Demme won the Academy Award for best director and his film won the Academy Award for best picture. That film was The Silence of the Lambs. It is dedicated to Trey Wilson.
Works Cited:
Dansby, A. (January 21, 2007). Houston's Trey Wilson: Best actor you've never heard of. Retrieved September 5, 2019 from Chron