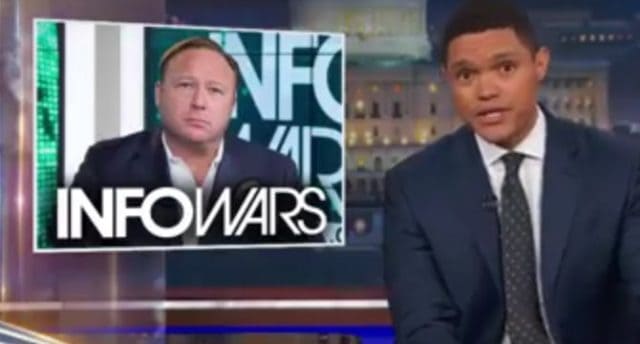 As many of you know by now, Alex Jones is trying to win a custody battle which has been nothing short of bizarre. Publicity began with this last week when Jones' lawyer claimed that Jones is a "performance artist" who's been "playing a character" for years. This comment was made to suggest that Jones could never be that kind of conspiracy theorist psycho lunatic in "real life." What kind of parent would he be? Yeah, exactly. But is it possible that Jones shares something very familiar with the President of the United States? Trevor Noah thinks so.
"The Daily Show" host Trevor Noah spent some of Tuesday night's show arguing a thesis: that Donald Trump is just like InfoWars host Alex Jones, a "performance artist" who's been "playing a character" for years, as his lawyer suggested this week. I see why Donald Trump has always liked Alex Jones," Noah said of the president. "They're basically doing the same thing." In December 2015, Trump phoned in to the "Alex Jones Show" for a 30-minute interview. "Your reputation is amazing. I will not let you down."
Do you agree with Noah? The full segment of his argument is below but yes, I 100% agree. Trump just used his persona to appeal to a wider audience and win the largest office in all the land. When you think about it, and I hate to say this because I couldn't have less respect for Donald Trump than anyone, it was pretty brilliant.