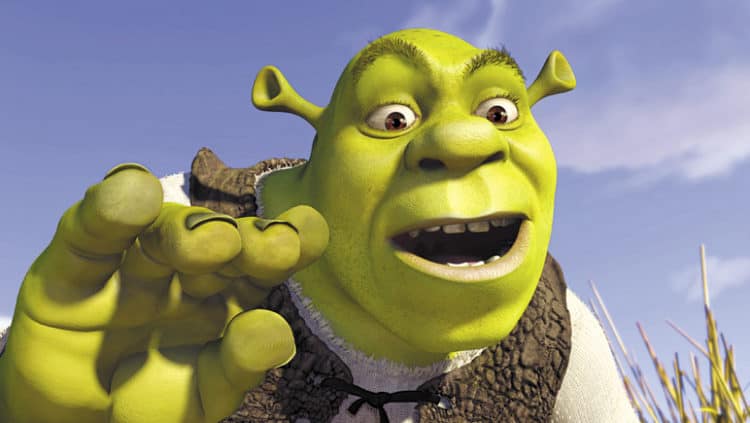 Weezer came along in 1992 and by 1993 were a certified hit that people just couldn't get enough of. In the 90's they were relatively loved but almost universally known. As the years went on however and their sound just kept sticking around they got to be a huge hit. As of right now they're still known and they're still big, but it's largely for a handful of songs that are the kind of tunes that you get stuck in your head and don't want to get out. Buddy Holly has been one of the best tracks they've ever laid down and the Sweater Song is perhaps one of the others that really got them going, or so some of us believe. Anyway, Weezer is not what you would call hard or particularly bouncy, but somewhere in between where a lot of people feel comfortable.
Plus, it's the kind of sound you don't mind hearing multiple times a day.
5. Shrek Forever After – I'm A Believer
You might have thought Shrek would hang it up after having three kids, but nope. There was one more story to wring it all out and make it stick. Now if you've had kids or still have little ones you might understand what the big green guy is going through. Three kids, demanding life, never a moment to yourself, yep, it's parenthood to a tee. But the one good thing above all about parenthood is that it keeps your life interesting.
4. American Pie 2 – Hash Pipe
It was interesting to watch this bunch of misfits mature throughout these movies, and this film in particular was fun because it was still a transition phase in which they weren't quite adults yet but they definitely weren't kids. Relationships were changing, their outlook on life was changing, and more to the point they were learning what it takes to accept what life has to offer and take your chances when you can.
3. Angus – You Gave Your Love to Me Softly
Angus is one of those guys you don't see coming. Literally you can actually see him from a mile away, but metaphorically a lot of people overlooked him and thought he was just another fat kid that wasn't worth much of a glance. But then he proved that he was someone that deserved he was there, he was real, and he was worth getting to know.
2. One Tree Hill – We Are All On Drugs
So it's a party and it's in full swing. It just seems like the two women in the clip aren't really enjoying themselves as much as they possibly could. And the guy, well, he seems like he might be trying to get in the swing of things but he seems a little more reserved than everyone else. It could be because there's something between him and the brunette I suppose.
1. Lip Sync Battle – Buddy Holly
Finn is absolutely killing it in this video! The outfit, the look, the guitar, everything is just on point and he's getting so into the song that it's hard not to sing along as he starts jamming all over the place. This has to be so much fun to do, too bad it's just for celebrities.
Weezer is an awesome band and is so adaptable that you might be likely to hear them almost anywhere.
Save