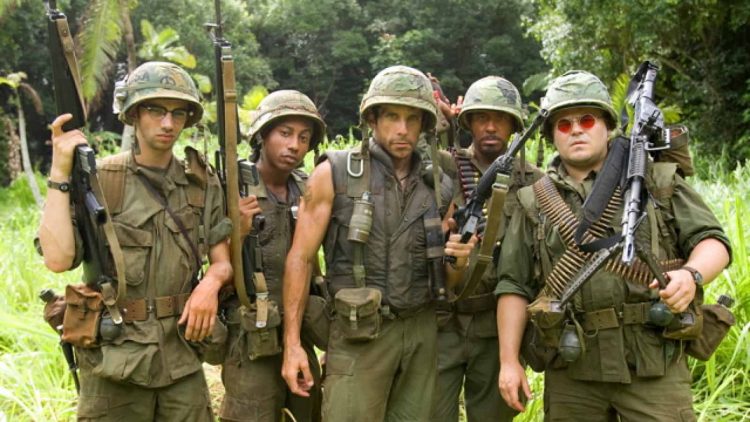 Quiet Riot is a lot more talented than just two songs but the lack of clips on the internet, yes I know that sounds crazy, that I could find for them in movies is simply astounding. This heavy metal band that was formed in the early 1970's deserve a lot better representation but sadly the only films I can recall them in are shown below with barely worthy clips to showcase the songs. Honestly unless there are obscure movies out there with their other hits it really looks like Hollywood was only ever interested in these two songs. It's understandable because they're so forceful and easy to get into, but the lack of variety is kind of disturbing.
So here's what I could find of Quiet Riot in films.
5. Tropic Thunder – Cum On Feel The Noise
It took a while to actually get into this film but once it got going it was pretty funny. The trailer parodies in the beginning are absolutely horrible but that of course was the point. The blatant ripoff of the Nutty Professor is both sickening and somehow hilarious though. Jack Black isn't a one-trick pony by any means as we've found out but it seems like he was going for that with this role.
4. The Wrestler – (Bang Your Head) Metal Health
The Wrestler is all about an aging pro that has seen better days and is well past his prime. Life on the outside of the ring however is not that great, and despite being warned that his heart can no longer take the strain he decides to go back to wrestling and make the best of it. It might be his last match, but at the very least the old legend gets to go out doing what he love to do.
3. Rock of Ages – Cum On Feel The Noise
It's all about the rock and roll and the drama that comes with it. This star-studded film didn't really last that long in the theaters and didn't produce a lot of buzz in the box office, but it certainly turned heads for a few minutes at least. This is one of those attempts that gets made that really shouldn't but is filmed anyway out of boredom, or at least that's how it seems.
2. Crank – (Bang Your Head) Metal Health
You're on the edge of your seat with this movie nearly the whole way through. After being injected with a synthetic drug that will stop his heart unless he keeps his adrenaline flowing Chev Chelios, a hired assassin, must find the man that did this to him and seek out a way to keep himself alive. The mayhem that ensues as he tries to keep himself pumped up is just out of control and beyond crazy.
1. Zookeeper – Cum On Feel The Noise
https://www.youtube.com/watch?v=Haypxj24_Uw
This is another movie that didn't do so well but it had good intentions. The problem is that talking animals outside of a cartoon movie is a rather difficult thing to really get right. While it's worked for some movies it's really all about the premise and the plot rather than the gimmick of just making the animals talk.
To all the Quiet Riot fans out there expecting more, let me have it. And try to come up with other movies and songs if you could.
Save
Tell us what's wrong with this post? How could we improve it? :)
Let us improve this post!