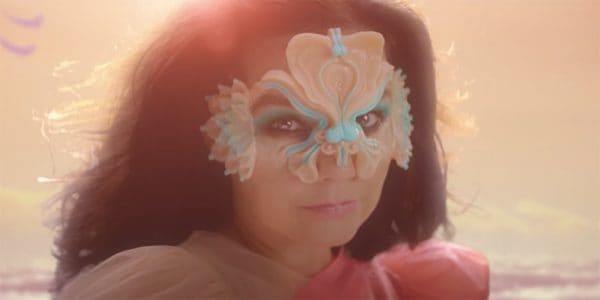 Some might think of Bjork's style as a bit off and even a little odd but all in all she's had a very successful career and could be a bit of an acquired taste. If you've loved her music since she took off on a solo career in the early 1990's then chances are you probably still do. She's one of those artists that gets into your head and doesn't go away largely because her sound is just that haunting and in some ways very infectious, but in the very best of ways. The thing about Bjork's music is that she pulls from so many different sources for her inspiration that at times it can seem a bit jumbled and even nonsensical but if you really listen you can make out the harmony within the background that makes her work truly wonderful.
Here are a few ways in which her music has contributed to pop culture.
5. Sucker Punch-Army of Me
Sucker Punch seems like kind of an odd movie until you come to understand the idea behind it. Baby is trapped within a mental asylum run by some very bad people. In order to escape and give the other girls a chance to get away she creates vivid imaginings in which she and the others are the heroines that must save the day in one way or another. The film is kind of tragic at the end but at the very least it is a very touching experience.
4. Gilmore Girls-Human Behaviour
This show is mostly centered around a single mother and her daughter as it explores the town in which they live and the many goings on that happen on a fairly regular basis. The story is overall a touching one that follows the two as they interact with those in the town and attempt to live what is called a normal life while dealing with day to day issues on a regular basis.
3. The X-Files-Hunter
The X-Files have been considered an oddball show for a very long time now and thankfully that's the whole point of the show. It's what draws people in and allows them to at least entertain the notion that some things are simply too hard to explain and cannot be as simple as they appear to be. Of course conspiracies such as those that exist in the X-Files would still be a bit hard to swallow, but it's interesting to think about.
2. Leon: The Professional
This film has the distinction of being one of the best and most underrated films of all time. It wasn't given enough attention when it was released and many of us might have stumbled upon it by accident, but Leon: The Professional, is a classic that is a must-see and still stands as one of the best films today. You could argue that it's not the classic hitman movie but that argument would fall flat very quickly.
1. The Oscars-I've Seen It All
Always go to the source if you want the best representation. Bjork is definitely out there at times, but she's got her own style that doesn't apologize and doesn't shy away from the public, and that's great. She stands proudly on stage and lets her voice ring out and that's what it takes to make it in the music industry.
She's definitely strange in some ways, but that's part of what makes her so great, because she embraces it.