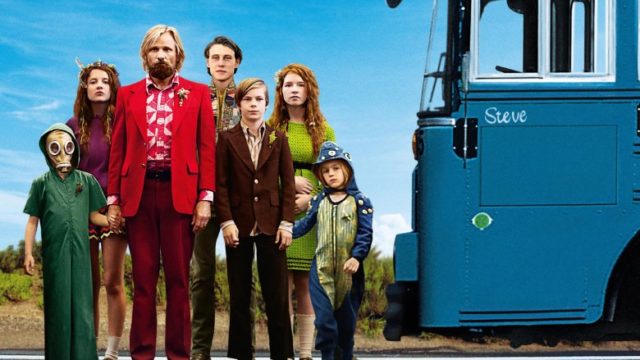 Captain Fantastic is a different kind of film but it serves to show the point of both those that embrace society and those that seek to get away from it. It's definitely considered different to want to raise your kids in a more naturalistic manner and avoid the hustle and bustle of a society that's rapidly expanding and never seems to slow down. But the problem with this is that same society is the one that can help when it comes to real life learning so as to supplement the kind of learning the kids in this film were given. Despite the very real skills they learned they didn't exactly feel prepared for the world at large and their mother was lost when she could have possibly been saved. It's not necessary to cast blame in any direction, but instead find a balance with the natural world and the one that mankind created.
There has to be a balancing point somewhere.
5. Sweet Child O' Mine
Sung in what seems to be tribute to their mother, this song is pretty touching when it comes from the heart like this. The song has been sung in a few different versions since it was released but this is undoubtedly one of the more poignant uses of it since it's being used as a remembrance and a special way to say goodbye.
4. Boy 1904
At one point in the movie the father and his kids exhume the body of their mother in order to give her the proper funeral rites that she wanted. She desired to be cremated rather than put in the ground, so they decide to take her body and put her on a pyre so that they can honor her in the best way they know how. Many people want this kind of end as years spent in the ground seems too dismal despite the fact that the body remains but the spirit is gone.
3. I Shall Be Released
This film could come off as really depressing since the general view of those that live away from society and its rules tends to be that they're nuts and don't understand the way life works. The argument there of course is that they do understand and are tired of living by society's rules. In that case the problem becomes that there's no compromise being made and there's not likely to be any kind of easy resolution between the two factions.
2. Rain Plans
Films like this tend to pull at the heartstrings when kids are involved since no one wants to see a child's youth squandered or even damaged in any way. This kind of lifestyle that's depicted in the film isn't exactly damaging but it's one-sided for sure. By the end of the film however the father has come to realize that his kids want more than he was willing to give them, and that it's time for them to decide what they want.
1. My Heart Will Go On
This song is simply pleasant no matter where it's played, whether it's being sung or just used as an instrumental piece. Something about it just makes the setting it's in seem a little more magical somehow, as though the notes can convey an ethereal feel that wasn't there before.
Movies like this do make you think in one way or another.
Tell us what's wrong with this post? How could we improve it? :)
Let us improve this post!