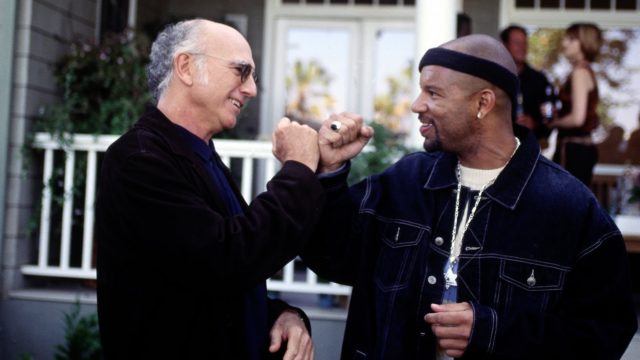 If you've seen Curb Your Enthusiasm then you undoubtedly know who Krazee Eyez Killa is. He's a gangsta rapper and boyfriend to Wanda Sykes. He cheats on his wife a lot and shares very little with his friend Larry David. However, the little he does share tends to be hilarious. The official announcement of the series' season premiere sidelined the character and he was never mentioned at all. The fate of the Krazee-Eyez Killa is yet to be known but considering his phenomenal role in the series, he might be revived. In the meantime here are some of our favorite Krazy Eyez moments from the show:
The rap lyrics scene
In this scene from Curb Your Enthusiasm, Krazee Eyez Killah met Larry David in what appeared to be a party. He greeted David and told him how he writes his own lyrics. He asked David to help him out with his lyrics; a request David declined the request citing his inexperience in rap. Krazee excused him and fished out a piece of paper from his jacket and started rapping out his profanity laced lyrics to him. David listened closely to the end before offering his views at the end.
Krazee-Eyez house scene
&t=137s
The scene started with Larry David paying a visit at night. Krazee opened his door amidst an animated welcome. When David was just about to leave, Krazee Eyez told him to stay behind so that he could show him around his huge apartment. He began with the dining room and showed him expensive shades and table, chairs and marble floor. They then proceeded to the bedroom from where David commented on his small bed. He immediately laid out his plans to buy a new bigger bed. David then realized he had some waste paper in his hands and asked for a trash bin. Krazee told him to throw anywhere in the room, a suggestion that David hesitated to do but did it anyway. Almost yelling, Krazee called out someone by the name Delicious to come and pick the trash but she never appeared. Suddenly, David noticed a jacket that resembled his lost one in Krazees wardrobe. Krazee promptly gave it to him.
The cheating scene
Krazee had been cheating on his wife for some without her knowledge until one day when Larry David accidentally revealed to her thinking that she already knew about it. When his wife started an argument about it, Krazee showed up in at David's place and caught him trying to hide. He confronted him over it and demanded his jacket back.
Tell us what's wrong with this post? How could we improve it? :)
Let us improve this post!