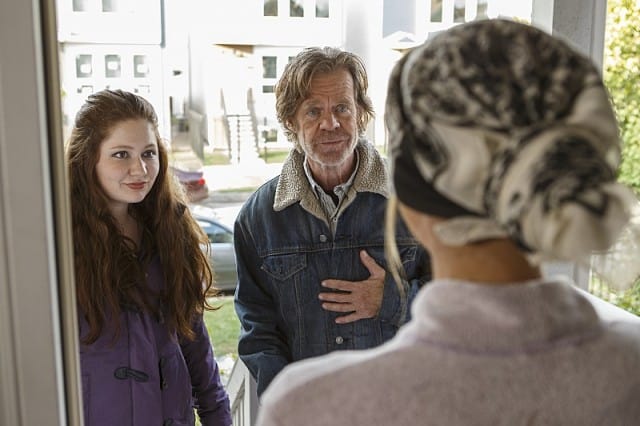 Season 6 of Shameless has been phenomenal so far, and "Going Once…Going Twice…" proved to me that it won't be holding back anytime soon. Faced with eviction, her own pregnancy, and her sister's, Fiona still manages to scramble up the cash…but she still loses the house. She even pawns off Gus' wedding ring, which is a plot that is bound to come back and get her (yay more Gus!). The beginning and ending of this short eviction plotline was really satisfying. I am sure we will see more of it next week as they prepare to move out generations of stuff, but it was nice to see a short term plot in a show as lengthy as Shameless.
More to expect from Sean next week as Fi just learned that he went to prison for killing a man when he was in his twenties. After Jimmy-Steve, I think Sean's manslaughter charges should come as no surprise to Fiona, but we'll see how that goes when she wakes up from the reality of newfound homelessness.
Lip and Helene have a devastating plot this week and it's quite a roller coaster of emotions. At first I was so excited for Lip to have some alone time with Helene, and at a conference, too! Lip's life is so different from what it was even just last season. Helene mentions working on this paper for three years, and she seems excited to present it to her peers. Unfortunately, three years of hard work disappear when a rude audience member decides to call her out on all of her research with new material discovered just weeks ago. I have never experienced such intense secondhand embarrassment for a fictional character before.
Later, Helene gets very drunk and has a bit of a heart to heart with Lip on the bathroom floor. She tells Lip that when they first got together she thought it would just be a short-term fling, but it's turned out to be so much more. If you have eyes and you're watching Shameless, you'll know that Lip is absolutely in love with Helene (no matter the circumstances) and her bathroom confession can only grow that love further. Just like her paper, first positive and then negative, Helene tells Lip to forget everything she said the night before, and she's even mistaken for his mother, ouch!
Carl has a few nice moments with Dominique and Nick, and Nick finally speaks! I really loved watching Carl put two and two together to figure out that Dom didn't need a fancy coat but a way to get to school instead. Despite his new attitude this season, Carl is still a Gallagher, and they've always been fairly loyal and considerate people. If Carl keeps it up, he might actually have a chance with Dominique.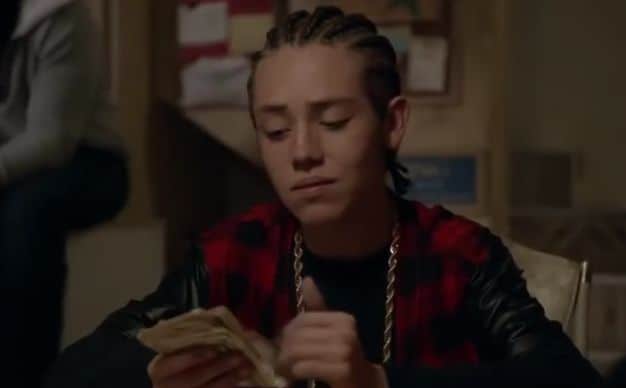 Nick's backstory is really wonderful, and I think I could see the respect Carl has for him because of it. Nick tells Carl that when he was younger all he wanted was a bike, but his dad used their money to buy drugs. So he saved up his own money but his dad pawned the bike he bought for more drugs. He may have killed his dad, or seriously injured him because of the bike, and went to juvie for it. It took four episodes for the writers to give Nick something to say, but I think it was worth the wait.
The final substantial thing that happened on "Going Once…Going Twice…" was Yanis. Sweet, terrible, Yanis. I'll admit that he has definitely been one of the strangest characters introduced to Shameless in such a short time, but boy has he been entertaining. His constant interaction with Kev makes everything he says and does that much more ridiculous. Yanis confides in Kev that he has plans to set the lawyer's house on fire, because he thinks the lawyer cut the brake line on his bike. Kev worries that he may actually go through with it, and he does.
Yanis slowly makes his way down the street with a box of Molotov cocktails, and when Kev tries to stop him, he throws one at the house. When Kev finally confesses that he was the person who cut the brake line, Yanis tries to set Kev on fire, but lights himself up instead. Just so much spinning! Kev stands there in confusion about what to do, and I cannot wait to see guilt ridden Kev strike yet again next week. What a flawlessly Shameless way to end this episode! Funny, and dark, I wouldn't have it any other way.
Those were the parts I found important, but let's not forget:
-Ian has discovered that there is an entire shift of gay firefighters. I suspect he may fall in love with a fire fighter, or join them. Or both!
-Lip described the hotel as "swanky," and I'm still laughing about it.
-Frank's newest scheme involves setting Debbie up with a (potentially) future widower, in an effort to make sure someone is taking care of her and her baby. Should be horrible and interesting, but I wouldn't expect less!
-Chuckie is back, and I am not even moved to talk about it further.
[Photo credit: Parrish Lewis/Showtime]
Summary
The Gallaghers lose something big in another stellar episode of Shameless Season 6.