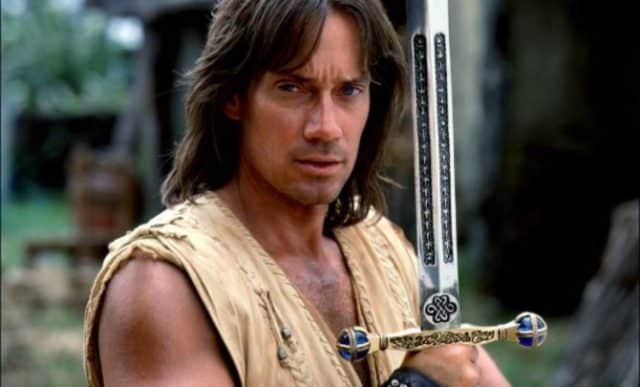 Sometimes, there are iconic performances in a movie or television show that makes a certain character unforgettable. Sometimes, it's the other way around. There are those roles where the character being played is so legendary that it's almost difficult to find an actor that's capable of measuring up to what's being asked in that particular role. Such is the case with virtually any actor that has ever played Hercules. There have been a bundle of them throughout the years, dating back to as early as the 1950s. People have played Hercules in movies, television shows, and even animated series. It's hard to wrap your head around the idea of someone playing the character Hercules in a voice-over, but it does happen.
Below are five of the most memorable performances in history When it comes to this iconic character. The earliest one is from the late 1960s and the most recent is from only a few years ago. These actors played the character Hercules in both movies and television shows and for one reason or another, they made an impact that isn't likely to be forgotten anytime in the near future.
1. Kevin Sorbo: Hercules: The Legendary Journeys (1995-1999)
He is said to be the quintessential actor when it comes to playing this character. Playing Hercules in a television series that spanned four years, he stamped his name on this character and made it even more challenging for anyone that was to come after him. To this day, most people consider his performance of the character to be the definitive one. Moreover, many doubt that his performance is likely to ever be equaled by anyone else.
2. Dwayne Johnson: Hercules (2014)
While he certainly didn't achieve the accolades that Kevin Sorbo did, he did have fans turning out in fairly large numbers to see this film. This was the first time since the late 1990s that anyone had attempted playing Hercules, largely because the character is larger than life. Once a certain actor becomes linked with this character, it's hard to imagine anyone else doing it so it took a long time for anyone to put the idea together when it came to making a new movie on the subject. Whether you love the movie or hate it, most people would agree that Dwayne Johnson gave it his all, and that's all anybody can really ask from anyone.
3. Ryan Gosling: Young Hercules (1998-1999)
This particular project took a bit of a different approach when it came to telling the story of the character. As opposed to telling it from the point of view of the Hercules that most people have become familiar with, the whole idea was to tell the story from the point of view of a young, relatively inexperienced and sometimes insecure Hercules. Although the series only lasted a couple of seasons, it definitely made its mark and it's still well remembered among fans.
4. Lou Ferrigno: Hercules (1983)
Most people only remember this actor as the person that played the Incredible Hulk. As a matter of fact, that stereotype has followed him throughout his entire career. It even got to the point that many people forgot that he ever played Hercules. In reality, he was definitely among the best actors when it came to playing this character, so much so that he was even invited to reprise his role in The Adventures of Hercules II, which was released two years after the original, in 1985.
5. Arnold Schwarzenegger: Hercules in New York (1969)
If you are a real fan of Hercules movies, you've probably seen this one. Otherwise, you might not have ever heard of it. It certainly wasn't among the actor's best work, but you have to remember that he did this movie when he was just starting out. It's not a bad movie, either. In fact, it's worth checking out, especially if you like the story of Hercules or if you just like old movies. As you might have guessed by the title, it has a bit of a different spin on things, but it's still worth seeing for anyone that considers themselves a die-hard fan.
When it's all said and done, everyone has their own idea of who really did the best job playing Hercules. You might agree with one of the people on this list or you might have an entirely different idea of who your favorite actor is. With that being said, these are the ones that really stood out and made the role their own. That's something that's hard to do with any acting role, but it's even harder when you're playing a legend that has become larger than life.