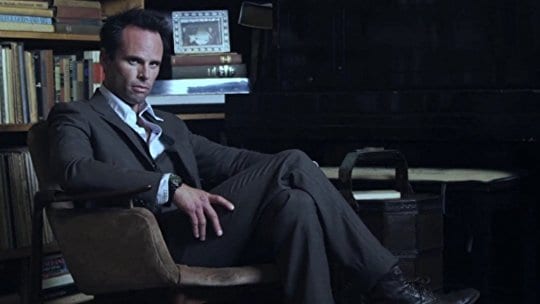 Walton Goggins is an American actor who was born in Birmingham, Alabama, on November 10, 1971. He was raised in Lithia Springs, Georgia. He attended Lithia Springs High School and the Georgia Southern University. However, he left university after just one year. He wanted to pursue a career in acting so he moved to Los Angeles when he was 19. While he was an aspiring actor, Goggins worked in several jobs to make ends meet. Two of these were selling cowboy boots and working as a car parking valet at restaurants.
After playing a few small roles, he got his big break in 1990 when he landed a part in 'Murder in Mississippi'. Since then, his acting career has gone from strength to strength with roles on both the television and in the movies. Two of the television roles he is best known for are Boyd Crowder in 'Justified' and Shane Vendrell in 'The Shiled'.
Here are our picks for five of Walton Goggins best movie roles.
1. Billy Crash — Django Unchained
https://www.youtube.com/watch?v=TNThQ-EMIN0
'Django Unchained' is a revisionist western movie that is written and directed by Quentin Tarantino. Released in 2012, this movie starred Jamie Foxx, Christopher Waltz, Leonardo DiCaprio, Samuel L. Jackson, and Kerry Washington. Goggins played the supporting role of Billy Crash. This character is the fight trainer on a plantation. He teaches slaves to fight in brutal battles called 'Mandingo fights'. This film was nominated for many awards.
2. That Evening Sun
https://www.youtube.com/watch?v=tq4KnreDMgQ
'That evening Sun' is a story written by William Gay and adapted to a screenplay by Scott Teems. When an elderly farmer is sent to a nursing home by his lawyer son, he decides to return to the farm to live in peace. On his return, he finds a family of tenants living on his farm. He moves into an outbuilding and refuses to leave. In this movie, Walton Goggins plays the role of Paul Meecham, the farmer's son. This 2009 movie was directed by Scott Teems and also starred Hal Holbrook, Ray McKinnon, and Mia Wasikowska.
3. The Hateful Eight
https://www.youtube.com/watch?v=6_UI1GzaWv0
'The Hateful Eight' is a 2015 movie written and directed by Quentin Tarantino. This western movie is a story about eight strangers who seek refuge from a blizzard in a stagecoach stopover. The eight main characters of the movie all have a nickname. Walton Goggins plays Chris Mannix who is also known a 'The Sheriff'. The budget for this movie was $44 million and it achieved a worldwide box office gross of $155.7 million.
4. Tino Armani- Randy and the Mob
At the Nashville Festival, this 2007 comedy won the Audience Choice Award. Goggins plays Tino Armani and other cast members include Ray McKinnon, Lisa Blount, and Bill Nunn. The movie is about a businessman who gets into debt with some low-level Italian mobsters. Tino Armani is a mysterious modern day prophet who is trying to help him out of his troubles.
5. American Ultra
Directed by Nima Nourizadeh, this 2015 action comedy was written by Max Landis. Walton Goggins plays the role of a Tough Guy Operative. Also starring in this movie are Jesse Eisenberg, Kristen Stewart, Topher Grace, and Connie Britton. Despite receiving good reviews, this movie struggled to break even at the box office.