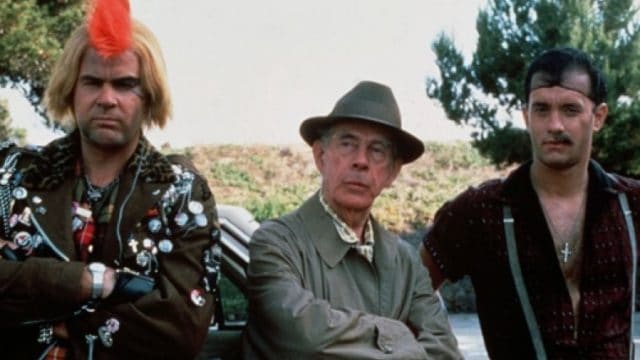 Tom Hanks is one of the most famous and respected actors of all-time. However, it's important to know that before the movie Philadelphia earned him an Oscar, Hanks was primarily a comedic actor. While his mega stardom came from roles like that he played in Philadelphia, Forrest Gump, and other films like Saving Private Ryan, Apollo 13, Cast Away, and plenty of others, Hanks was a Bosom Buddy, a guy getting married in Bachelor Party and a man who was in a "Money Pit" while trying to move into his house.
Here are our picks for five of the best comedic roles over the course of Tom Hanks's career:
Bachelor Party
Bachelor Party might not be what most people think of when they think of Hanks, which is not unexpected, seeing as how it was released in 1984. In it, Hanks played a young man who has just announced to his buddies that he is going to get married, with the result that they decide to throw him the biggest and the best bachelor's party that they can. Naturally, when his fiancee hears about it, she decides to join in the fun by having the biggest and best bachelorette party that she can. The result is a series of drunken shenanigans as the two parties merge, culminating in an affirmation of the love between the two characters.
Big
Big was one of the movies that propelled Hanks to super stardom, which is perhaps unsurprising considering how it has become the example of a movie in which a child ends up in an adult's body for whatever reason that the movie-makers choose to hand-wave it. With that said, Hanks's performance was also remarkable in that he was able to sell the idea of a child who came to realize that the subject matter of his wildest dreams might not be as pleasant as he had always thought it would be, which is a remarkable feat to say the least.
Dragnet
In Dragnet, Dan Aykroyd and Tom Hanks played a pair of cops named Joe Friday and Pep Streebek. Since it was a buddy cop movie, it should come as no surprise to learn that the two were opposites, with Hanks playing a street-wise know-it-all. Nonetheless, the two managed to come together through their confrontation with a bizarre evil cult named PAGAN for People Against Goodness and Normalcy, becoming true partners in the fires of often amusing adversity. Dragnet met with a mixed reaction from the critics, but it did quite well at the box office, where it earned more than $60 million on a $20 million budget.
Joe Versus the Volcano
Joe Versus the Volcano was not a financial success, but it was interesting in that it was unafraid to take a chance on some new ideas, which might explain why it managed to become something of a cult classic. Regardless, Hanks played the titular Joe, who had been diagnosed with a psychosomatic disease that has been diagnosed to kill him within a few months. As a result, he decides to travel, meets three separate women played by Meg Ryan, and falls in love with the last of the three, all while stumbling towards a happy ending.
League of Their Own
In League of Their Own, Hanks played Jimmy Dugan, a former player for the Chicago Cubs who ended up serving as a manager for a women's team competing in a women's league called the Rockford Peaches. At first, he is skeptical of the idea, with the result that he treats it as nothing more than a joke. However, as time passes, he becomes more and more invested in the role as the players show their real capabilities. However when he nails Stillwell in the face with that mitt, classic.