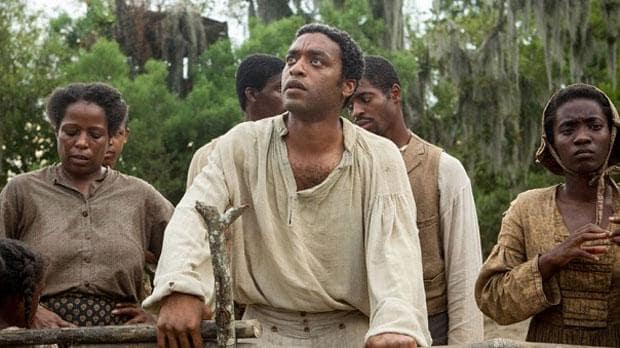 Films about slavery aren't always easy to watch or easy to act I'm certain. This was a dark time in the nation that divided many people and still haunts us as a people today. To say that anyone plays the part of a slave with any accuracy or mastery is a bit controversial, as it brings back old feelings that many people do not want to deal with. In movies however there is a bit of glamorization that seems poised to erase the decades and centuries of hurt and abuse that went on so frequently. Films seek to tell the story of those that were treated with such disdain in a way that makes people understand and even attempts to give them hope that we will not repeat the mistakes of the past.
Here are some of the moments in film when slavery was shown to be at its worst.
5. Cinque – Amistad
Being taken from your home and called property is a deplorable act that many human beings would revolt against. When the Africans taken as slaves do just this aboard the Amistad it sets off a widespread effect that swiftly boils into a massive trial as the Spanish seek to regain their "property" and others decide to step forth. As the trial ensues it is seen that tensions begin to rise between the north and the south of the country, leading to what would eventually become the Civil War.
4. Hebrews – Prince of Egypt
https://www.youtube.com/watch?v=biVEtQQ_9mo
Slavery is nothing new in human history. The strong tend to subjugate the weak, even if we are given only half of the story more often than not. The actions taken by those that are fearful of slave uprisings are in many ways horrible to even contemplate let alone hear about. Worse than this is the act of justifying such horrors to oneself and one's people. In order to keep their power the Egyptians did many things. A nation of wonders they were, but like so many others, even those that are considered by history to be benevolent, they are not innocent.
3. Nat Turner – The Birth of a Nation
To slave owners an educated slave was a danger at times. They knew how to read, to write, and to reason, and this made them a threat. If worked right however it made them a valuable asset that slave owners thought they could use. The one thing that is so dangerous to one that seeks to subjugate others though is knowledge. Once a person knows that they are free, they will do anything in their power to seek and retain that freedom, as is the birthright of every person.
2. Django – Django Unchained
You know when Tarantino gets hold of something like this that it's going to get blown so far out of proportion that you almost, ALMOST forget about the slavery aspect. But then he slams it right back in your face with as much force as possible and puts an exclamation point on it by slamming back at the issue at hand. Django is not that realistic really, but it delivers a sense of heavy-handed justice that more people would like to see done at times in these types of films. It's not entirely balanced, but it gives a different viewpoint that some might find interesting.
1. Solomon Northup – 12 Years A Slave
Being taken into slavery after being raised a free man would be one of the ultimate insults to a human being that could never be fully forgiven, if at all. The determination of Solomon to not give up on his life is inspirational, but the treatment he must undergo is horrific and barbaric to be certain.
Movies concerning slavery are not meant to be cute, cuddly, or in any way endearing. Very often they attempt to show a world in which life was immeasurably harder for a single race of people in ways that we strive to rectify in the world today.
Save