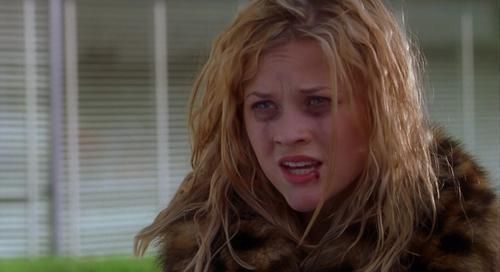 Since I've come up with a Yelling Game it would be awesome to call this the Crying Game but that might sound a little off and besides the fact it might confuse a few people that recall the movie. Anyway, this time we get to see Reese Witherspoon in action and if you've watched any of her movie then you know that she's a class act most of the times but she can absolutely fall apart onscreen when she needs to. Her ability to draw up the kind of emotion she needs at a moment's notice is pretty impressive and tends to make people believe that she is fully in the moment and is experiencing that grief at the time for as long as it takes the scene to develop. Plus, she has more than one crying face which might sound kind of odd but it's true. She doesn't do one singular cry that you'll see throughout her many movies, but instead has a wide variety that she can pull from to make the scene work the way it needs to.
Seriously, some actors have that one anguished look that kind of defines their sad face.
5. Wild
After sinking into a bout of depression that ruins her marriage and her life in one fell stroke Cheryl Strayed takes a hike along the Pacific Crest Trail from California to Washington in an effort to find and redeem herself in a way that many might see as extreme. Despite the pitfalls and difficulties along the way however she comes to a realization of who she is and what she means to do with her life.
4. Cruel Intentions
Annette is little more than a prized piece in the game that is going on between rich kids Sebastien and Kathryn, but when Sebastien actually starts to fall in love with Annette the game is pretty much played out. He confesses to her what he's done and she in turn condemns him for being a coward and stating that he doesn't really love her. It's a twisted love story that isn't too hard to figure out.
3. Legally Blonde
When Elle gets dumped by her boyfriend it's one of the most epic scenes of Witherspoon's career since she has a total meltdown in the restaurant where the dumping is done. Not long after though she decides to make something of herself and goes to law school where she turns things upside down in an attempt to prove that she's not just a pretty face.
2. Walk the Line
The story was obviously taken a bit out of context since some things were wrong and others were correct but still embellished far beyond what actually happened. Reese absolutely nailed the part of June Carter though some felt, as her acting and her singing voice were slightly off from the real June but were acceptable enough to be passable for the movie.
1. Home Again
Being separated from your husband and finding someone you really connect with only to watch as your husband states that he wants to come back into your life could be a little nerve-wracking. How in the world would you choose between the guy you're having so much fun with and the guy that walked out on your family?
Reese Witherspoon is a definite master of the crying scene.
Tell us what's wrong with this post? How could we improve it? :)
Let us improve this post!