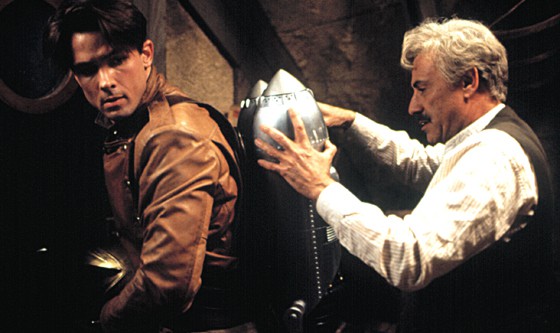 Movies being overlooked is nothing new since the bigger, flashier, and sometimes better movies usually tend to take over in a big way when they come out, stealing the thunder from other movies that might have thought that it was their time to shine. It's not entirely fair, but it's also evident that the movies that are being looked over are those that think they're doing something great, which in some cases they are, but have missed something, have overlooked something else, and have misplaced a vital quality that might have made them stand out against a late-comer without being tossed to the side. That's the truth of movies really since those that are capable of capturing and holding the attention of their target audience are those that aren't going to be forgotten so easily. There are likely plenty of people that will recognize the movies listed below, or at least a couple of them, but it's also likely that a couple of the movies will be largely unknown. Just keep in mind that there's a reason for this, and it's typically that another movie came out that was bigger, better, and hit the audience in a very different way that kept them watching.
Here are a few movies that were overlooked for bigger movies.
5. The Entity
There's almost always something creepy about an unknown entity entering your home and it's the type of story that a lot of people like since it's eerie, it's horrifying, and it's the type of story that a lot of folks would be scared to see at night. But the unfortunate part of this movie is that while it was said to be terrifying and without a doubt effective, it was easily pushed aside by Poltergeist, which came out months later and came up with a couple of iconic lines and plenty of effects that kind of blew The Entity into another dimension where it has been resting ever since, perhaps hoping that someone will reboot it at some point.
4. Hellboy II: The Golden Army
Hellboy II has been given a lot of flak for not having a convincing story over the years, but to be fair it wasn't that bad and it was kind of an interesting tale that pit Hellboy up against a very effective enemy that wasn't about to quit. It was kind of odd to give Abe a love interest and it did get a bit corny with Hellboy and Liz's relationship. But what really blew this movie out of the water was the fact that The Dark Knight came out a week after this movie and dominated the box office since no one had anything on Heath Ledger's version of the Joker at that time, which meant that even the Golden Army had to give way to the clown prince of crime.
3. Iron Eagle
A movie about jets and midair combat is usually one that a person can assume is going to do well since the action and the drama tends to mix well together. We even saw mention of this movie in Cobra Kai thanks to the character of Johnny Lawrence, who had to struggle to find his way out of the 80s at some point. But this movie didn't hold a candle to the star power and the overall story of Top Gun when it came out since Tom Cruise, Val Kilmer, and the rest of the cast kind of knocked it out of the park when it came to pushing something that people were going to see as worth their time.
2. The Rocketeer
Some folks have gone so far as to call the Rocketeer a knock-off of Iron Man, but from a movie standpoint, The Rocketeer does predate Iron Man, even if the source material for both favors Iron Man by many years. The point with this movie though is that it had to contend with Robin Hood: Prince of Thieves, starring Kevin Costner and Morgan Freeman. It didn't fare so well and was considered a flop, unfortunately, which means that Kevin Costner with a horrible English accent was still more popular than this movie, which is kind of saddening to hear since the idea was thought to be a lot better than people decided it was.
1. She-Devil
This is where star power and the story that's being told tends to come into focus since War of the Roses, which outdid this movie, was a lot suaver in nature and had stars that were definitely more appealing to look at according to moviegoers. Yes, I said it, someone found Kathleen Turner more appealing than Meryl Streep, and I for one am laughing quite hard right now. But the point of this movie is felt a lot more than War of the Roses, since this movie is easier for a lot of folks to relate to in many ways, despite the fact that it's kind of hard to find now and is considered pretty obscure.
Sometimes the movies that lost out are a little more interesting.