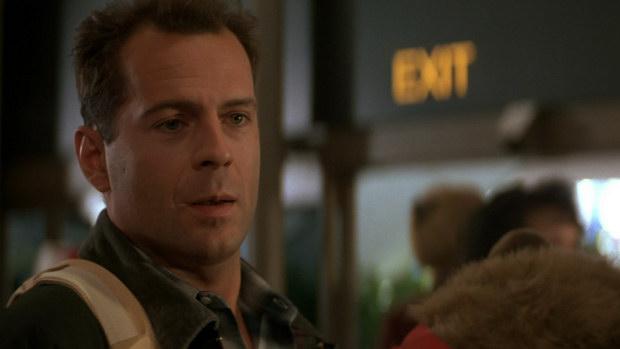 He's not the most skilled person when it comes to a fight but Bruce Willis is just flat out TOUGH. He's been the tough guy ever since he made his way onto the Die Hard set, and that image hasn't gone away ever since. He's been in dramas, comedies, scifi movies and the like but he's never been the technical fighter that others have been. Bruce is the bruiser that gets in your face and headbutts you, punches you, and slams you into any hard surface that's available. He's the street fighter that follows the only rule that's important in a fight: there are no rules.
Here's some proof of that.
5. Last Man Standing
A lot of Bruce Willis' fight scenes involve guns at one point or another and this one is perhaps the greatest example. Willis finds himself stuck in a little hick town in the middle of the desert that's run by two competing gangs. So in the style of Yojimbo, seriously watch the movie you'll see the similarities, he starts to play both sides and eventually runs into a world of trouble.
4. GI Joe: Retaliation
He felt more like an add-on than a real part of the film in this one but at the very least he was entertaining. Like I said, a lot of his roles have to do with guns and thankfully he can make it look good. In this film he replays a retired officer that gets put back into action after COBRA has taken over the US and the Joe's have to find anyone they can to help out.
3. Red
As he's gotten older Willis still clings to the action roles but he's started becoming the retired soldier or spy or whatever that has to come out of retirement when he's recruited for a job or something similar. In this film he's still just as awesome as he ever was but has to go up against much younger and well-trained individuals that give him a lot more trouble than they would have decades ago.
2. Live Free Die Hard
So you're getting two Die Hard clips for good reasons. One is that this fight between Willis and Maqqie Q is awesome, and the second is that barring Die Hard 2, these films definitely displayed Willis's fighting prowess on a much grander and more realistic scale. He's the hardened cop that's not a technical fighter but knows how to get down and dirty when it really comes to it.
1. Die Hard
This is the classic Bruce Willis. He was just a cop on vacation in California going to see his wife and wasn't looking for any trouble. But when terrorists seize the building in which his wife's business party is being held in John McClane wasted little time in getting right to action, improvising and taking care of business as he needed to in order to survive and get everyone out safe, as much as he could. But the fight with Karl was perhaps the most epic scene in the whole movie.
Yippee kai-ay, well, you know.