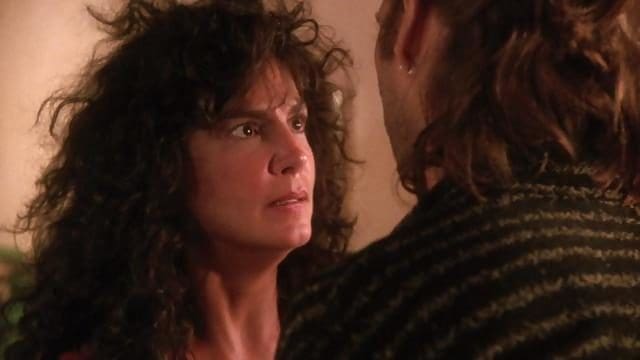 Mercedes Ruehl is a familiar face in the acting business. The American actress was born in Queens New York in 1948. Although she is predominantly a stage actress, she's also built a fan base for her roles in television and movies. Her versatility allows her to move from one venue to another seamlessly, amassing a following wherever she performs. Here are the top five movie roles that she has played so far in her career.
1. Anne in "The Fisher King"
Mercedes Ruehl played the part of Jeff Bridges' girlfriend in the 1991 film "The Fisher King." This was the character that gave her the break she needed in her career. The character was a slightly neurotic woman who experienced frequent bouts of bitterness. The fact that she also had a tremendously supportive side gave the character good balance. It was obvious that she connected well with the character and gave a convincing delivery that many viewers could relate to.
2. Connie Russo in "Married To The Mob"
This role gave fans an eye opener about how well Mercedes can act in the 1988 film. She portrayed the charactter who was overbearing as well as obviously deranged. She was able to reign the part in when necessary which made the character more believable. This can be a challenge for actors because there is a fine line between just enough and too much emotional investment. She pulled the role off in grand style.
3. Bella Kurnitz in "Lost in Yonkers"
Just two years after her successful role in "The Fisher King," Mercedes was cast in the role of Bella in the Niel Simon "Lost in Yonkers" (1993). Bella was an adventurous girl who also had a loving and protective side while being mentally challenged. This was a performance in which Ruehl excelled in showing her amazing versatility and additionally, her versatility in being able to get into the role of the character and connect with her audience.
4. Irene Madigan in "Last Action Hero"
Ruel's role as Irene in "Last Action Hero" (1993) showed us yet another side of her. She can pull off serious roles but she also slides easily into characters from the comedy/fantasty/action and adventure genres. Irene was a complicated character that knew her classical music and could easily identify the piece by listening.
5. Roseanna in "Roseanna's Grave"
This 1997 film featured Mercedes Ruehl as Rosanna, a woman who is in the process of dying from a heart condition. The touching film centers around Rosanna's only wish which is to be buried beside her daughter. The problem with this is that the cemetery where she is buried is filling up quickly and there isn't room for expansion. This was one of Ruehl's most moving roles and she plays the part very well.
These are the five most impressive performances of Mercedes Ruel in movies. She is currently active with roles in popular television series including "Power" (2017) and she appeared in an episode of "NCIS" most recently. We're looking forward to seeing more of Mercedes, but as of yet, there don't appear to be any roles coming up in film.