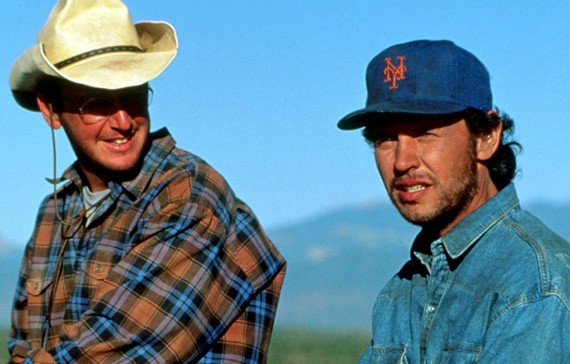 Daniel Stern has been a funny guy for quite some time but he's interspersed his comedy with bouts of drama that have left people wondering just what kind of actor he really is. Well to put it bluntly he's a kind of a middling actor that is good enough to be a part of Hollywood but acts more as a supporting character than anything. He's definitely had some great roles throughout the years but usually he's the support for the lead actors. The great part is that he seems content doing this and plays his part perfectly. If he's ever been a leading man unfortunately he seems a little lost and not quite as confident as usual. The best part about Daniel Stern though is that with every movie he's doing his absolute best, which is usually more than good enough.
His delivery and his presence are both great.
What happens in Vegas should usually stay in Vegas, but there are times when that's just not the case. When a group of old friends go to Vegas intent on having a good time and showing their friend a good time all hell breaks loose when one accident becomes another and then eventually becomes premeditated homicide. To make matters worse they don't bother going to the cops, choosing instead to go the Casino route and bury their victims in the desert. As you can imagine this just makes things so much worse.
4. Celtic Pride
Some people love their sports teams more than anything in the world and prove it by being as crazy about them as they can possibly be. But when you kidnap the star player of the opposing team that seems like it would be taking things just a bit too far, especially when it has to do with the fact that the other team can't seem to function without him. Of course it would help if those doing the kidnapping were a little smarter and not as susceptible to the pressure and the fear that comes with knowing that you've done something extremely wrong.
Monsters under the bed are never supposed to be real but when they turn out to be that way in this film it brings to light the reason why things tend to happen and why kids get the blame so often. The scene in which Stern gets liberally doused with a melted carton of ice cream is particularly funny since the look on his face seems to promise instant death to a young Fred Savage when the kid thinks it's the funniest thing he's ever seen.
2. City Slickers
Thankfully city slickers and country folk tend to get along better than this movie would suggest but the parody of it is that you can't take a city boy out into the country and expect him to just acclimate in a matter of a few days. Even two weeks seems to be pushing it since a lifetime spent in the concrete and glass jungles that so many people call home does little to prepare anyone for the wide open range.
1. Home Alone
If you're thinking that Marv and Harry should have been dead, crispy-fried, and off to the big sendoff before this movie even concluded then medically-speaking you'd be correct. Thankfully the movie is like a live-action Looney Tunes moment and the injuries are laughed off and made to seem serious but not so much that they'd be capable of sending the guys off to the morgue. So long as kids recognize that an iron to the face would be fatal then it should be possible to laugh off the events in this movie.
Daniel Stern's characters are usually able to laugh off a lot of things.