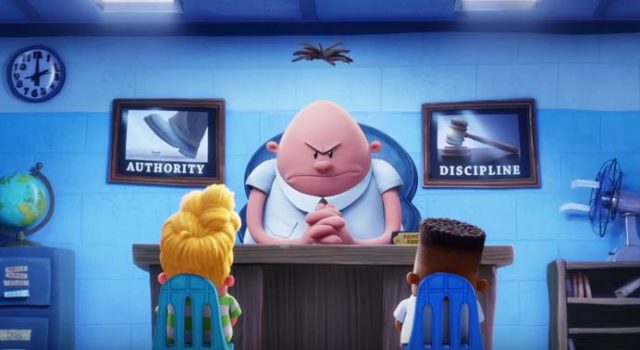 Dreamworks animation may very well have a huge hit on their hands. If you're familiar with the book series Captain Underpants then you should be psyched for this film to come out. For those that need a refresher, the book series revolves around two fourth graders, George Beard and Harold Hutchins, living in Piqua, Ohio, and Captain Underpants, an aptly named superhero from one of the boys' homemade comic books, that accidentally becomes real when George and Harold hypnotize their ill-tempered principal, Mr. Krupp. Soon after, Mr. Krupp gains superpowers by drinking alien juices. So yeah, Captain Underpants becomes legit.
A new trailer has just dropped of an animated feature that will be starring Kevin Hart and Ed Helms. More important than these two, Will Ferrell will also be a voice in the film. Jordan Peele, Kristen Schaal, and Nick Kroll also have supporting roles. Helms will be voicing Captain Underpants. Kevin Hart and Thomas Middleditch will be voicing the characters George and Harold.
When asked about the film Helms said: "He's a delusional superhero who thinks he's got all kinds of powers and has literally zero ability beyond just that of a middle-aged man. "The lovely thing is that we have two creative boys at the center of this thing, so anything they dream up really is something we can just lean into heavily. It constantly keeps the story feeling like it's been made by two fourth graders, as opposed to me."
The movie will be released on June 2nd.