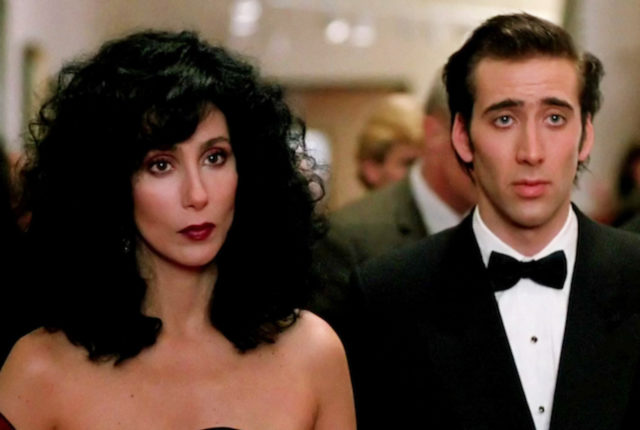 Not too shabby for a woman that's been considered as a singer for most of her life eh? Cher has been a sought after woman for a lot of years when it comes to performing and she's put up just as good a performance onscreen as she has on the stage. While she hasn't done a lot as of late she's been absolutely awesome in past years and has shown the kind of talent that makes people remember a face and a name all in the same breath. She's worked with some of the best throughout her career and been a strong enough person to dominate her roles and bring a certain air of dignity to the movies she's been in. The talent of this woman is so great that even if people start to forget it should take only one viewing of the movies listed below to remind them.
Yeah, she's really that good.
5. Moonstruck-Loretta Castorini
Love affairs are a mess, especially when families are involved in more than one way. To her own credit Cher's character tries to make up her own mind throughout the growing difficulties but has a tough time trying to nail down any one particular feeling other than the fact that she is starting to fall in love with Ronny despite her engagement to Johnny.
4. Mermaids-Mrs. Flax
It's kind of hard when your mom is more like an older friend than a mother. Throughout this film it's shown that this kind of a relationship can take a heavy toll on kids and causes more problems than it might solve. Eventually however near the end things start to take an upward turn as the family starts to bond a little more and realize their responsibilities to each other.
3. The Witches of Eastwick-Alexandra Medford
Three women that essentially barter a deal with the devil suddenly develop powers beyond their imagining and in so doing earn the enmity of their town and eventually the anger of the same individual that made them so powerful. It's a fun movie really with a few twists and a lot of room for laughter considering who stars in it and who's playing the devil.
2. Burlesque-Tess
Tess is the tough as nails owner of the burlesque show that Ali is trying to become a part of, and takes lip from no one. This kind of goes along with many of the roles that Cher has played and seems to mirror her attitude when she's in public. She's the kind of woman that won't take any crap off of anybody and will make the decisions she feels are right when she feels the need.
1. Mask-Rusty Dennis
Based on a true story, this movie was a very touching and tragic tale of a young man that didn't have what others might call a normal life. He didn't even have an average, run of the mill mom since Rusty did love her son to death but wasn't what you would call the ideal mother figure.
Cher is by far one of the more talented people in Hollywood.