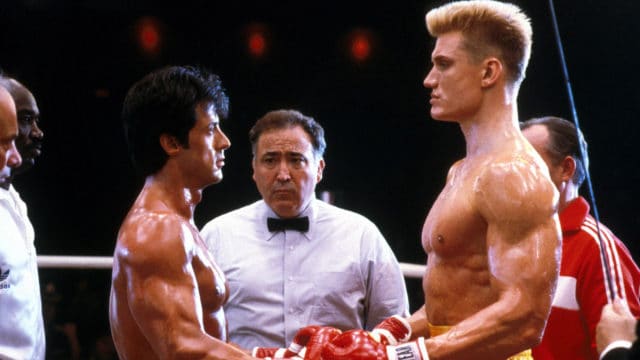 The art of boxing is so much more than just punching the other person, but there is a brutality to it that can't be denied, and that many people seem to love. While the more technical side of it doesn't get much attention by some, the intricacy of each hit, each movement, and how they all blend together into one sinuous flow can entrance most any viewer to the point that they believe that what they are seeing is what represents reality. Unfortunately there aren't many cinematic fights that tend to showcase the raw, gritty, reality of boxing, but some films are so wonderfully done and carry such heavy emotional content that it quickly ceases to matter.
Here are our picks for the top 5 boxing scenes in cinematic history
Maggie vs. Bille "The Blue Bear" – Million Dollar Baby
A one-punch wonder is exceedingly rare in boxing, no matter if it is women's or men's. Sometimes its the trainer, sometimes its just the natural skill of the boxer, but when Frankie talks to Maggie in this film, magic starts to happen. Billie realized this soon enough and put the matter to rest in the most cowardly way possible.
Mickey Ward vs. Shae Neary – The Fighter
https://www.youtube.com/watch?v=pTBW2GVvQ4U
Based upon a real fight, Ward was an up and comer that had been living in the shadow of his older brother for years and enduring Dickie's drug issues, their mother's mishandling of his career, and just a poor showing in the ring. As is depicted in the movie however, when he meets Neary, the pressure to win a belt hardened him just enough that he came out and all but decimated his opponent.
Jake LaMotta vs Sugar Ray Robinson – Raging Bull
There's something to be said for a never say die, no quit attitude, but sometimes it just doesn't pan out. One thing Jake LaMotta can always look back and say is that Sugar Ray never knocked him down. He will likely omit that it was the ropes holding him up, but it might be worth it to let him have that one.
Roberto Duran vs Sugar Ray Leonard – Hands of Stone
When there's respect between fighters the fight can't get any sweeter, but when there's absolutely no respect then it's bound to be an all out war. Much of the film is based upon the true story of Roberto Duran and touches upon his feud with Sugar Ray. These two hated one another in real life and went at it tooth and nail inside the ring, with Duran being victorious in 1 out of 3 bouts. Despite the history they are the best of friends to this day.
Rocky Balboa vs Ivan Drago – Rocky 4
Out of all the fights that Rocky has been through this one seems to resonate the most. While Apollo and Clubber were monsters to be overcome, Ivan Drago was an absolute mountain of a man, and more to the point he had an entire country behind him. Yet viewers had to know Rocky would win, if only after receiving a beat down that would have likely killed just about anyone else. Still, this film did produce some iconic lines, such as "He's not a man, he's like a piece of iron." and "Hit the one in the middle." When you're seeing three of everything that's fairly sound advice.
Conclusion
No matter if you're into real life boxing or the kind you see in the movies, there's a lot of emotion packed into each round and a great deal of thought that goes int each swing. Boxing is a thinking person's sport despite all thoughts to the contrary, and a moviegoer's idea of an instant classic.