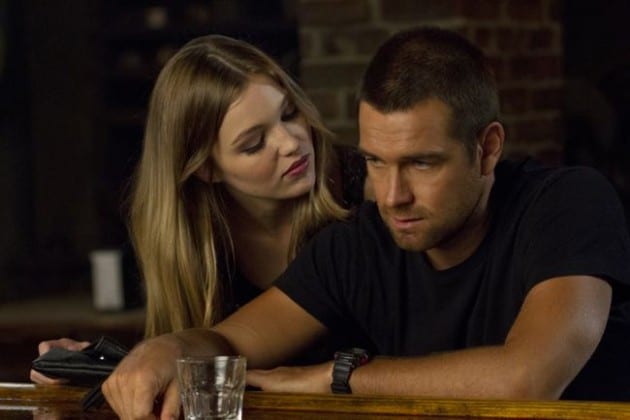 Cinemax recently released a premiere date (January 9th!) and poster for Banshee's third season, which got us thinking about the show's first two seasons – which then led to a heated debate of the show's best episodes so far. For what its worth, here's my two cents on the best episodes of Banshee's first two seasons:
"Behold a Pale Rider" (Season 1, Episode 7)
"Behold a Pale Rider" is probably the weakest episode on this list on a plot level (psychos take over nearly-empty school gym, blah blah blah), but it deepens the show's central relationship of season one (Ana and Lucas) in fascinating ways. Ana isn't shown as a woman devoured by her own emotions (a welcome change on TV), but rather one who acts pragmatically, deciding to send Hood off to his death, rather than risk her lies and past being exposed to her family (including a daughter we'll later find out is Hood's). Sure, she ultimately backs away from the decision by the end – but that backtracking makes their relationship more interesting, finally showing the audience that she might be as invested in her love for Lucas as he is to her. Plus, it kicks off the events of the first season's final act, arguably the show's most exciting, adrenaline-filled run of episodes.
"Bullets and Tears" (Season 2, Episode 10)
"Bullets and Tears" marks the end of Banshee's first era, closing out its sophomore season by ending Lucas and Rabbit's war, and turning up the heat on the war brewing between himself and Proctor, a power struggle that will undoubtedly frame the opening hours of Banshee's third season when it begins on January 9th (mark your calendars now!). There aren't a ton of surprises to be found here – but even for a show reaching an inevitable set of conclusions, "Bullets and Tears" acts as a satisfying closing chapter to the first two seasons of the show. Will season three get into the racial tensions of Banshee further, or dig its nails into the Proctor vs. Hood battle? Only time will tell, but "Bullets and Tears" is a wonderful conclusion to the first set of stories it has to tell, while teasing possible directions for others (even its emotional beats hit home, something the show can struggle with at times; Hood finally trying to connect with Siobhan is a particular highlight).
"Pilot" (Season 1, Episode 1)
Say what you want about Banshee, but there's no denying how awesome its pilot is, a kick-ass hour that begins with Hood (unnamed at this point) walking out of prison after his 15-year sentence comes to an end. Throw in Job's first appearance (where he blows up his entire hacking setup) and the wildly entertaining (and bloody) first night Hood spends in Banshee, and you've got a great hook for a series. There's nothing complicated about Banshee's pilot: the show's dramatic hooks are cooked right into the premise, a show that blends elements of cop shows, gangster epics, and small-town dramas into a single, sweat-and-viscera soaked treat.
"Ways to Bury A Man" (Season 2, Episode 7)
The not-really-a-war between Proctor and Hood is always a highlight of Banshee, a combination of the city's putrid politics (it's basically run by an Amish gangster, and a criminal pretending to be a dead cop) and ego-padding, something that comes in heavy spades on Cinemax's signature drama. Not only does it make for dramatic turns of events, but often leads to some of the funniest material on the show, be it the two beating the snot out of each other, or trading verbal barbs about each other's position in the town – and in "Ways to Bury A Man", their dissonant relationship becomes an avenue to explore the beds the men of Banshee lay in, meticulously detailing how they've reached the violent, desperate points they find themselves at, at this point in the season. Not an episode of the show that will impress in any particular way, but a fantastic entry nonetheless, that fits more into the narrative format of season one, layering the improvements to script and character from its sophomore effort on top for a devilishly dark hour.
"The Truth About Unicorns" (Season 2, Episode 5)
Banshee's greatest episode to date surprisingly doesn't take place in Banshee at all, following Ana and Lucas on a trip to the life they never got to have, one interrupted by Hood's imprisonment and Ana's subsequent escape to rural Pennsylvania fifteen years before their reunion. What's beautiful about "The Truth About Unicorns" is how it doesn't get caught up in the romantic fantasy Lucas has lost himself in for fifteen years; underneath it all, "The Truth About Unicorns" posits that Hood no longer lives under a different name, but a different identity, a man who lost himself in prison, and was never really ever able to find it again. And it also makes important points about how fractured the love between Ana and Lucas always will be: after spending a season and a half portraying their love as something Lucas always desires, "Unicorns" points out the audience (and Lucas) that their relationship is nothing but a fantasy, something Lucas loses himself in whenever he realizes he lacks purpose in the modern world, outside of his real-but-fake job as sheriff. Although it drops nearly the entire starring cast to tell this story, it's completely worth it: "The Truth About Unicorns" is a powerful hour of television, even though it lacks the fists and bloodstains that normally make the show so entertaining.
Tell us what's wrong with this post? How could we improve it? :)
Let us improve this post!