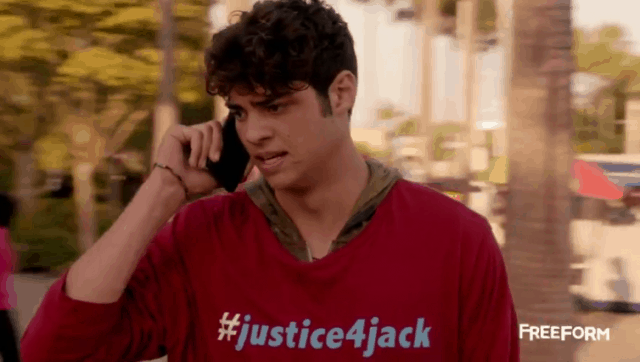 The Fosters is known for building up to finales which put the family in either true moral dilemmas, or in some sort of peril. That has never been more true than of the Season 4 summer finale. Last season the family faced the possibility of danger, but this time there's no mistaking the very real physical danger everyone is in. Two members of the Foster-Adams family could lose everything they've worked for, one definitely does, and that all pales in comparison when at the end of the hour it's unsure of a few members of the family will even survive to see the rest of the season.
Before everything gets hectic, let's relish in the good news that Brandon was accepted into Juilliard! I swear my own heart caught in my throat waiting for the news. It would be great if everyone else could be moving on up so joyously. Sadly, that is not the case. Stef would love to make detective for many reasons, not the least of which is that it would help with the family's money problems. Unfortunately Detective Grey is determined not to make it easy. He tries to buy Stef's silence on the cover-up in Kyle's case, and when that doesn't work he threatens to sick Internal Affairs on her and Mike. As much as Lena loves that her family helps people, it can't be at the expense of Stef's job and the security of their family. Nobody bullies Stef Adams-Foster into a corner, and she's certainly not going to let them start now.
While waiting for the DNA results from the evidence Callie found (albeit inadmissable evidence), Callie enjoys spending some time with AJ, Aaron, and Sophia at a #justice4jack event. It's a way to spread awareness that the new 'foster reform' bill is completely worthless when it comes to actually helping kids. Things go bad quickly when Justina's people arrive on the scene with their own petition, and threaten Callie with prison for opening Justina's mail if she continues her quest. Callie takes after her mom though, she can't be bullied. She speaks up even though she knows the consequences.
Good things are disappearing everywhere you turn. Our joy for Brandon getting into Juilliard is short-lived. The College Board finds out that Brandon illegally took the SAT for another student, so Juilliard, and college of any kind, is off the table.
Then there's AJ, who is increasingly jealous of Aaron's closeness with Callie. He misinterprets Aaron's intentions, and because he has no idea Aaron is transgender, makes a snide comment which sounds hateful. Between their miscommunications and Mike's growing concern, it doesn't look like AJ and Callie can survive. Callie needs to finish what she started. Especially since her refusal to back down will have disastrous consequences, first of which is that Sophia is nearly molested after the suspect Callie is investigating mistakes the sisters. At least a stranger intervened before Sophia could be harmed. Callie gets in a car with a stranger to help her family, only to realize she is trapped with the real killer who framed Kyle, the victim's grandson.
Months of slowly beating herself into the ground has led Mariana to her breaking point. It couldn't have come at a worse time since Nick has come home. Avoiding the situation only exacerbates Mariana's stress, so much so that Jesus has to intervene. Matt announcing that he's been accepted in Berkeley College of Music in Boston doesn't help. No sleep, a combination of prescription meds and alcohol, you know how this goes. Mariana hallucinates Nick, but Jesus confirms that Nick is safely at home by the time Mariana disappears. Nick is so concerned he cuts off his ankle monitor to find Mariana. After she's done releasing all her pent up anger Nick actually gets her to calm down. Jesus misunderstands and attacks Nick, and one wrong punch puts Jesus on the ground. He just doesn't get up.
Will Jesus and Callie survive?