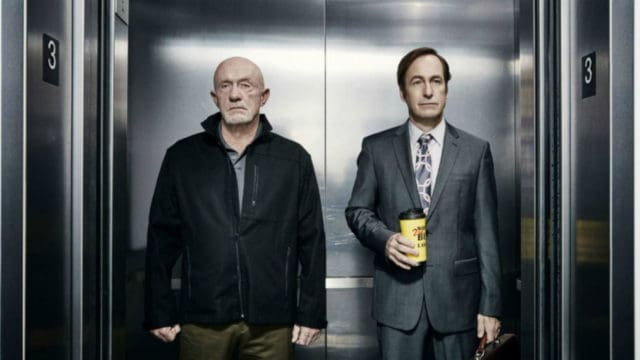 "Breaking Bad" and "Better Call Saul" creators Vince Gilligan and Peter Gould have never shied from carefully intertwining features of the shows that give clues. They are proud that their shows' fans pick up the pieces of the puzzle. Because it is a prequel to "Breaking Bad", it is no wonder there are many cryptic connections to the show in "Better Call Saul". In "Better Call Saul", we see the evolution or devolution of New Mexico attorney Jimmy McGill as he becomes his alter ego, Saul Goodman, whom we meet in "Breaking Bad". Jimmy/Saul is an attorney who sees the law as a con game. Fans of both shows are full of theories about what cryptic messages the creators are putting in to connect the 2 shows.
Here are the top 5 "Better Call Saul" fan theories.
1. "Fire and Ice" Theory
A popular fan theory in "Breaking Bad" can also be seen in "Better Call Saul". The theory is often called "fire and ice" and it relates to the role color plays in both popular AMC shows. Fans have determined that characters wearing cold colors such as blue are up to good while characters wearing hot colors like orange and red are up to no good. We certainly see the wardrobe color change in Jimmy's wardrobe when he is up to shady business. We see a change in Kim's wardrobe as she becomes entranced with Jimmy's shady work. Nacho is an obvious villain who wears hot colors. Even the Kettleman's show their dark side. They appear in cool colors when Nacho plans to rob them, but when their true colors are revealed, their tent and even their money bag is red. Of course the colors of the desert are perfect for both shows.
2. What will happen to Kim?
Jimmy/Saul's professional and personal partner, Kim Wexler, is an important part of "Better Call Saul". She starts the series off as a respectable Albuquerque attorney. She becomes interested in her partner and boyfriend's shady deals as an attorney and slowly turns to the dark side of the law. But where is Kim Wexler in "Breaking Bad"? Fans are wondering and have several theories. The best yet saddest theories are that Kim died or went to jail as a result of her dealings with Jimmy/Saul. Some fans are more optimistic and wonder if she leaves Albuquerque for a better job as a once again respectable attorney, or are she and Saul still a couple and when Saul leaves his sordid life at the end of "Breaking Bad", does Kim go with him?
3. Back stories revealed?
Obviously some back stories for "Breaking Bad" are revealed in "Better Call Saul" meaning some favorite characters will return. Gus Fring has already appeared. In "Breaking Bad", we see Gus Fring as a sympathetic antagonist. He is a strong and silent drug lord. What made him become that person? Fans have surmised that Gus was a regular guy before something triggered his criminal life. It turns out he was partners at Los Pollos Hermanas with Max Arciniega who was murdered by the drug Cartel. Fans are correct, Gus Fring is motivated by revenge.
4. What's up with Chuck's fear of electricity?
Why does electricity affect Jimmy McGill's brother Chuck? Fans have speculated that Chuck's sensitivity to electro-magnetism ebbs and flows. It seems to relate to his conscience. Chuck does not hold back his disgust in his brother's shady antics. He is particularly upset that Jimmy embezzled from their parents' grocery store leading to the failure of their business. Fans have seen a direct correlation to Chuck's sensitivity to electro-magnetism to his feelings of love, respect and disgust in his brother.
5. Will "Better Call Saul" introduce "Breaking Bad"?
The biggest theory that fans are talking about is how "Better Call Saul" transitions to "Breaking Bad". Obviously the shows are connected by Jimmy McGill/Saul Goodman. We are now starting to see some back stories to other characters from "Breaking Bad". Will "Better Call Saul" introduce Walter and Jesse? Fans see the connection when Jimmy is taken into the desert and forced to give up names when Nacho goes against the Cartel and Saul's introduction in "Breaking Bad" where he gives up the name Ignacio (Nacho's real name) to ski-masked Walter and Jesse in the desert.