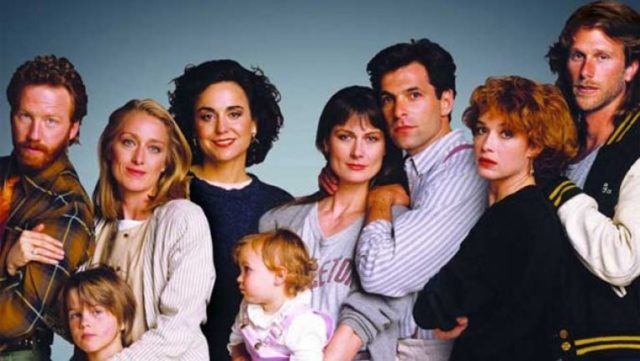 Have you ever wondered what the best dramas of the 1990s were, especially from a major network like ABC? More importantly, have you ever stopped and thought about how these television shows paved the way for many of the programs that are on today? After all, television was a lot different back then and the shows that aired during the time prove that fact. Nevertheless, many of the most groundbreaking television shows of the 90s made ABC what it is today. Below is a list of 20 of the most influential television programs that aired on the network during the 1990s. Some existed only for a single-season, some started as early as the 1970s and some aired mostly during the 80s and only managed to crack one or two seasons in the new decade.
You might also be surprised to learn that a few of these dramas are technically not dramas at all. Instead, some of them are definitively sitcoms, yet they provided more than just laughs. The truth is, a number of these sitcoms produced some of the most dramatic moments in television history, hence the reason for their inclusion on this list. Just like the sitcoms of today, a lot of these 30 minute long television shows that people once considered to be good for nothing more than a few laughs managed to explore some very serious subjects, indeed. You might say that the sitcoms of the 90s even paved the way for the modern-day sitcoms that are airing now.
They certainly weren't anything like the types of television shows that aired 10 or 20 years before them, when sitcoms were expected to be full of laughs and little else. In these particular television shows, subjects of substance were discussed on a regular basis and laughter was mixed with some intensely serious moments that captured the attention of the audience in a way that few other types of entertainment can do. As a result, it would be a mistake not to include the following sitcoms on this list, whether they are technically considered dramas or not. Of course, you always have the right to decide for yourself. There will undoubtedly be television shows listed below that you remember with fond memories and others that you can scarcely remember at all. You might have loved some of them and loathed others. However, they all managed to accomplish something in order to end up here on this list.
You might even be asking yourself what sets the programs that are listed here apart from everything else that ran on the network during this time frame. In one way or another, every program that is listed below influenced or changed something, whether it was the perception of the audience members or the way that television was produced at the time. Some of these television shows were considered groundbreaking and others barely even got noticed. However, there is something special about each and every one of them, even if it only comes down to an ability to profoundly move the audience for one or two episodes.Read on to find out more information.
1. Twin Peaks (1990-2017)
When this television show originally aired, it was easily considered to be one of the most groundbreaking and controversial programs of all time. You might think of it as mainly a crime drama, but it definitely had more than its fair share of weirdness. The best way to describe the original run of the show is a police drama that meets a Stephen King novel. It was a good show and it quickly developed a cult-like following. Unfortunately, the original Twin Peaks really didn't last all that long but the show was revived years later. Fans of the original show are glad to know that the new version still carries many of the same elements that made the original a success in the first place.
2. NYPD Blue (1993-2005)
Again, this is one of the most groundbreaking shows associated with ABC. While most people wouldn't think anything about the content in today's society, at the time the show aired it was extremely rare for many of the scenes that were shot to exist on network television. For example, there were a number of nude scenes and the language was questionable, at best. This is not something that was widely accepted on network television at the time and as such, the stories on the show often took a backseat to issues such as those listed above. Perhaps as a direct result of those factors, NYPD Blue became one of the most popular cop shows of all time.
3. The Commish (1991-1996)
This is another cop show, but it has a twist to it. It is in fact a television show about the police commissioner, something that had not ever really been done at that time. Remember, this is before Blue Bloods was likely even a concept in the mind of some producer, so creating a cop show that told a story from this angle was something relatively new. Without a doubt, there were some good stories to be had and the show quickly became one of the more popular options for the network.
4. Matlock (1986-1995)
For anybody that used to love the old Perry Mason television series, Matlock was a welcome arrival. It quickly became one of ABC's foundation programs during the time that it ran and eventually, even people that didn't normally seem to like television shows about lawyers seemed to come around to this particular program. It probably had a lot to do with the fact that its main character, Ben Matlock, was played by Andy Griffith, one of the most beloved TV actors of all time.
5. The Practice (1997-2004)
In all likelihood, The Practice was developed because of the success of Matlock. This was yet another television show about lawyers, centering on the lives of different individuals that all practiced out of the same law firm. While it never reached the popularity of Matlock, it was certainly popular enough to stick around for a number of seasons and it had more than a few devoted followers that would tune in week after week in order to see what was happening.
6. Life Goes On (1989-1993)
This was easily one of ABC's most innovative dramas of all time. It told the story of daily life within a family whose oldest son suffered from Down syndrome. It also upped the ante toward the end of the series when the family's teenage daughter had to deal with the death of her longtime boyfriend who died in a car accident. As a result, it became a show about day-to-day life for individuals who were just dealing with the things that life tends to throw at everybody from time to time. However, it was the way the stories were told that gripped the audience and made this television show so popular.
7. The Young Riders (1989-1992)
Who wouldn't love a modern-day drama about the old west? This was a show that attempted to feed off the popularity of 1960s westerns like Bonanza. While the concept didn't work exceptionally well, the series did well enough for it to stick around for a few seasons. People that were already fans of westerns were excited to see a new concept come into play that employed this technique.
https://www.youtube.com/watch?v=_HjerqBY51c
8. 20/20 (1978-Present Day)
This may not be a scripted drama but it is one of the most influential documentary dramas of all time. As you can see, this is a television program that has been consistently running on the network since 1978. To this day, it is one of the most watched television shows in its time slot. It deals with real life events and more often than not, it dives deep into the minds of individuals who have perpetrated certain crimes, bringing the nightly news to life in a much more in-depth fashion. For those that love to learn as much as possible about the events that are going on in the world around them, this is one of the best shows to watch.
9. Thirtysomething (1987-1991)
At the time the show aired, everybody had the idea that by the time you were in your 30s, you should be a successful young professional with a family of your own and you should have enough money to own a nice house and more than a few material possessions. That is essentially what the entire show centered around, along with all of the emotional baggage that comes with feeling so much pressure at such a young age.
10. China Beach (1988-1991)
This was a fairly short lived series but during the time that it aired, it had a devoted fan following. It explored many different story lines at the same time and in fact, the producers had a tendency to weave a lot of various themes in to the main portion of the show itself, almost to the point that many fans had a hard time describing what the show was about in one word. It dealt with a young woman with military experience but it also dealt with just about every emotion you could think of, often to the point that the military theme became nothing more than a backdrop.
11. The Wonder Years (1988-1993)
This is the first sitcom on this list. Even though the show was technically a sitcom, it also had more than its fair share of drama. For the most part, it was a fun-loving show that brought a lot of laughs but there were plenty of scenes planted throughout the show's run that dealt with the difficulties of growing up and growing apart. There were even times when the show would bring tears to your eyes. As a result, it has to have a place on this list because it was so influential at the time.
https://www.youtube.com/watch?v=Pd7P9RxF4YM
12. Doogie Howser, MD (1989-1993)
You might not think that a television show about a teenage genius that is capable of becoming a medical doctor would even be able to get off the ground. After all, the whole concept seems rather ridiculous. With that being said, the show did air and it became an enormous success. For anyone that was able to get past that initial concept, there were actually a lot of good story lines to be enjoyed.Many would argue that the show even set the scene for current medical dramas of today.
https://www.youtube.com/watch?v=RDac_NPyvCs&list=PL_1IPJIjR7-1Lugnge2WS4T6p1CTBn_6W
13. Roseanne (1988-1997)
Again, this is a sitcom the provided a lot of laughs but there were also some exceptionally serious moments that took place during the run of Roseanne. If you stop and think about it, the show serves as a realistic reflection of family life for middle class America, at least during its earlier years. People dealt with the loss of jobs, not having enough money, and dealing with issues raising their children. In later years, there was a lot of drama that centered around teenage angst and marital problems. Therefore, this show earned a spot on this list even though it was technically considered a sitcom.
14. Step By Step (1991-1998)
Again, you have a sitcom that reflected life in a realistic sense for many individuals. This show was about two divorced individuals who fell in love, got married and were raising their children together. You might think of it as a modern-day version of The Brady Bunch. Why does it earn a place on this list? It was a new show that manage to portray the lives of individuals living in similar situations in a fairly realistic manner. That made it very important for many individuals, not to mention the fact that a lot of the stories really hit home.
15. Growing Pains (1985-1992)
If you think Step By Step could really cause you to get a lump in your throat, consider some of the story lines that existed on the sitcom Growing Pains. Sure, the show could be funny and light-hearted, especially considering a lot of the antics of the eldest son but at other times, the show could be full of drama, even to the point of making audience members uncomfortable.
16. Lois & Clark: The New Adventures of Superman (1993-1997)-
Superman has been a popular television program in one capacity or another for decades. This one was a little bit different because it took the story of Superman, which is something that practically everyone knows, and spun things in a slightly different direction. As a direct result, you had a chance to see what life was like for Superman when he wasn't being Superman, not to mention how complicated his love life was because of his special abilities. The show didn't just center around Superman's exploitations as he went about saving the world from one disaster after another. While there was some of that mixed in, most of the show dealt with him being a normal person at work and in love who didn't always know how to handle situations and who was even fallible. Fans liked this concept and the show became extremely popular.
17. The Young Indiana Jones Chronicles (1992-1993)
Who wouldn't love a television show about Indiana Jones, right? Unfortunately, there weren't enough people that loved this one because it didn't last very long. With that being said, the concept itself was quite interesting. The idea for the show was to take the exploits of Indiana Jones, who audiences know and love, and tell his story from the time of his youth. In many cases, the episodes that existed in the show attempted to explain to audience members how he became the adult that he grew into and how he got involved in treasure hunting and archeology to begin with. The concept was a fantastic one. It's just too bad that the show didn't manage to stick around a little longer.
18. Ellen (1994-1998)
Ellen was a funny sitcom that kept audiences entertained and kept them laughing, without a doubt. Even so, it wouldn't have even made this list except for one thing. When the show ended, one of the most iconic episodes in ABC history came into being when Ellen came out as homosexual on the sitcom. You might not think anything about somebody doing something similar today, but rest assured, at the time the show ended in 1998, this was something that was unheard of. It took a lot of guts on her part and it was exceptionally well received by most audience members. You can easily say that this episode set the stage for the concept of being able to be who you really are no matter who is watching. As a result, this show deserves a spot on this list perhaps more than any other television program in the history of ABC or any other network.
19. Dangerous Minds (1996-1997)
It's really too bad Dangerous Minds didn't stick around for a few extra seasons because the concept of the show was a really good one. The lead character was a school teacher in an inner-city public school, teaching some of the most challenging kids that she had ever been faced with. Thanks to her previous military experience, she didn't back down easily. As a matter of fact, she had a habit of rising to the challenges that faced her and she wasn't afraid to deal with those who were causing issues in her classrooms with some tough love. While the show didn't last more than two seasons, it was still one of the most interesting dramas that ABC ever produced.
20. Charlie Grace (1995)
Last but certainly not least, Charlie Grace featured an interesting concept about a private investigator that worked with his daughter, who also had an entire network of friends on the police force. Together, the two went around with their extended network of acquaintances solving crimes. Unfortunately, fans never really caught on to the show and it only lasted a single season. It's a real shame, because the concept seemed promising enough to provide a number of interesting storylines that never really had a chance to get off the ground. There are times when some of the best dramas simply aren't well-received for one reason or another and this is a prime example of exactly that type of show.