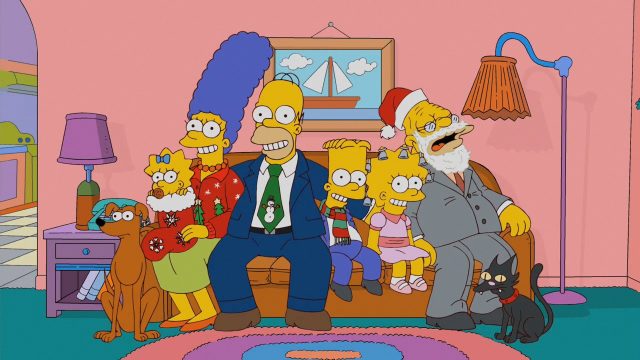 The Simpsons has enjoyed a long run on TV that has lasted well over 25 years. The very first episode of the series to debut on television had a Christmas theme and was entitled "Simpsons Roasting On An Open Fire". After the nation was introduced to the family and their greyhound back in 1989, there was no stopping the series from becoming a huge success. Since then a slew of Christmas themed Simpsons episodes have aired, each quite different from all the others. Here are the top ten Simpsons Christmas specials of all time.
1. "White Christmas Blues" – 2013
In "White Christmas Blues" Springfield has just come out of a summer with a brutal heatwave, and everyone is eagerly awaiting the cooler winter months. When the town suddenly becomes a hot tourist destination, people flock in and everyone starts seeing dollar signs. Consumerism is the running theme of this Simpsons episode, and even the usually levelheaded Marge gets in on the action by opening up a bed and breakfast for those traveling through Springfield for the holidays.
2. "She Of Little Faith" – 2001
This one of the Christmas themed Simpsons episodes that revolves around Lisa, and in this notable instance she decides to become a Buddhist after realizing how commercialized Christmas has become. It just so happens that Springfield has its own Buddhist temple, and there she meets Carl, Lenny, and Richard Gere. Hilariously, Gere teaches her about being Buddhist while Marge works on bribing her back into celebrating Christmas. This episode had such a big impact and was so well crafted that it was nominated for an Emmy award.
3. "Grift Of The Magi" – 1999
This is otherwise known as the Funzo episode, a toy that's a parody of the infamous Furby. This episode involves so many different elements, including an insidious market research group, Mr. Burns attaining a Scrooge-like visage, Moe contemplating offing himself, and Homer stealing a Funzo while Bart and Lisa distract the robbery victims by singing Christmas carols.
4. "Skinner's Sense Of Snow" – 2000
In season 12 the Simpsons aired this Christmas episode that brought forth classic one liners and plenty of laughs. With Springfield Elementary being the only school open during a terrible snow storm, all of the kids are upset when they become snowed in and stuck at the school. Suddenly it becomes them against Principal Skinner, and Willie also turns on him. In fact, it's Willie who happens to deliver one of the funniest lines in this episode.
5. "Holidays Of Future Passed" – 2011
https://www.youtube.com/watch?v=9C5kpsNr_R4
Many shows have tried to pull off the future glimpse angle during their Christmas specials, but this one nails it. The audience is given a look at how the future can possibly turn out for the characters, and in those instances we see a cryogenically frozen Grandpa, Bart and Lisa with their own kids, and Maggie becoming a singer in adulthood yet still not talking.
6. "Kill Gill, Vol. I & II" -2006
The first time that the character Gill became the subject of a Simpsons episode was this Christmas show, and it was hilarious. After being down on his luck again, Gill comes to stay with the family over the Christmas holiday, but he totally overstays his welcome. What's really funny is that it takes Marge nearly a year to get the courage to kick Gill out, and once she finally gets the nerve she finds that he's already left on his own accord. There's so many memorable scenes in this show that it easily ranks as one of the best holiday episodes of the series.
7. "I Won't Be Home For Christmas" – 2014
Of all the Christmas themed Simpsons episodes that have aired over the years, this one is among the funniest. Marge is understandably upset when Homer doesn't make it home for Christmas dinner, but the reason he's a no-show is because Moe has become super lonely and has no one to spend the holidays with. This leads to a huge fight between Homer and Marge and Homer being kicked out of the house. Of course they work it out in the end, and in true Simpson's style their means of making up are anything but conventional.
8. "Marge Be Not Proud" – 1995
In the seventh season of the show this gem aired, and it happened to be just the second episode based around a Christmas theme. When Marge won't buy Bart a video game for Christmas, he decides to steal it. In the process he not only deeply disappoints Marge but also ruins a family photo session. In what's one of the best moments of the series, Bart actually works to regain his mother's trust fearing that she doesn't love him anymore.
9. "Simpsons Roasting On An Open Fire" – 1989
This is the original that not only started the long list of Christmas themed Simpsons episodes, but the Simpsons series itself. In "Simpsons Roasting On An Open Fire", one of the highlights is Santa's Little Helper, the family's dog. What's great about watching this throwback is seeing how far the show has come. The animation is crude in this show and even the voices are different that what we all now know and recognize, but if you want classic Simpsons it truly doesn't get and better than this.
10. "Miracle On Evergreen Terrace" – 1997
Remember the Tickle Me Krusty doll that was a riff on Tickle Me Elmo? That came out of this Christmas episode from season nine. On the show Bart sneaks into his Christmas presents before he's supposed to and comes across a fire truck. Unfortunately the toy ironically ends up causing a fire in the house that destroys the Christmas tree and all of the other gifts that were under it. Not wanting to take the blame, Bart claims a burglar was the culprit who caused the scene and the townspeople rally to get new gifts and decor for the Simpsons. Once it becomes clear that Bart lied? Let's just say those once generous townsfolk become an angry mob.