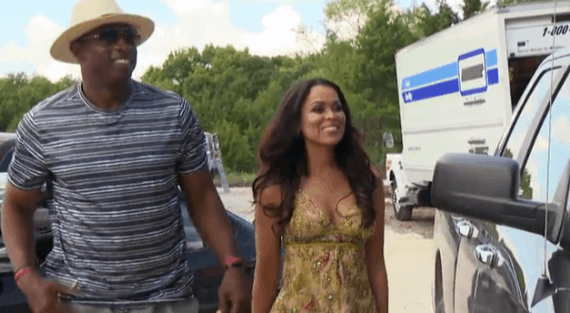 There is little doubt that the trend of tiny homes has truly caught on with the American people. The days of McMansions and other humongous spaces are slowly being replaced by more economical and space saving dwellings. This is why it's no surprise that FYI's Tiny House Nation is building up a big following among viewers. And tonight's episode is sure to boost the show's credibility and validation for the Tiny House movement.
Former NFL star and hall of famer Deion Sanders and his wife Tracey Edmonds (host of Extra) decided to go small, really small in order to get away from their busy lifestyles. Instead of opting for a lavish, gigantic lake house, they had the help of John Weisbarth and Zack Giffin in creating what is an extraordinary retreat by the water. To sum up just how different this lifestyle would be for the famed cornerback, he currently lives in a 7,000 square foot mansion.
How big is the lake house that's being built for them? 600 square feet. "I usually fish with four poles, and a couple boxes full of lures and everything so I'm going to need somewhere to store all of that," Sanders says. Another ask is a bit more unusual: "Any way that, in the ground, they can put a foot massager?" asks Sanders.
Edmonds throws out a funny request, too. "Is there any little area that you can create, you know how they do in hotels, with snacks and stuff?" she asks. While host John Weisbarth seems up for the job, Giffin seems less convinced.
"John's a little out of control here," Giffin laments. However, he remains dedicated to "making this house as amazing as possible."
Check out a preview of tonight's episode below:
Tell us what's wrong with this post? How could we improve it? :)
Let us improve this post!