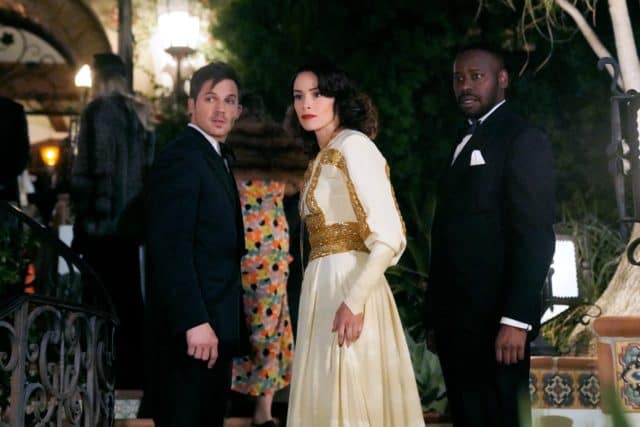 Lyatt fans, prepare yourselves. Tonight's episode of Timeless, entitled "Hollywoodland", will change the dynamic of the long-shipped couple in more ways than one. As a treat to the fans who fought so passionately for Timeless to be resurrected after its initial cancellation last spring, the Executive Producers thought it would be a fitting tribute to screen the third episode of the series a day early to a few select fans at this year's WonderCon. Without giving too much away, the episode will feature the moment Wyatt-Lucy shippers have wanted, as well as drop a few Easter eggs (just in time for Easter!) about the mysteries left to unravel.
The official synopsis for tonight's episode is "When a Rittenhouse sleeper agent in 1941 Hollywood steals the only copy of Citizen Kane, Lucy, Wyatt and Rufus team up with Hedy Lamarr (guest star Alyssa Sutherland) to get it back. Hedy Lamarr turns out to be not only a glamorous movie star but also a scientific wizard whose discoveries led to the invention of Wi-Fi." Prior to the public screening of the episode, series stars Malcolm Barrett (Rufus Carlin), Sakina Jaffrey (Agent Denise Christopher), and Paterson Joseph (Connor Mason) were able to tease a little of what this episode represents for the larger stories of the season.
We can confirm that Wyatt and Lucy's relationship will take a turn, and it's not a bait-and-switch, as evidenced by Malcom Barrett's laughter when asked how his character would react to his friends finally getting together. Let's just say Barrett's laugh explains it all. Rufus has bigger things to dwell on, namely Jiya's recurring seizures/visions, and the Lifeboat team's plan to get Garcia Flynn's help. "There's so many changes the show has done to revamp. There's a bunch I could say. Come Sunday I could tell you all the different changes from last year. What I can tell you right now is that Flynn is much more of an ally than he was in the first season. That's sort of a payoff of the complicated villain from last season. His intentions being possibly good-willed, but not approaching it in the best way. Like maybe killing people sometimes! It doesn't make Rufus particularly comfortable. It does make for an uneasy alliance, because well, he did try and kill him, and they've been trying to kill him back. Rufus almost died because of his hand. He's not happy about any alliance, neither would Wyatt be. That really gets tested throughout the season."
As for Jiya's condition, expect to be very surprised by what happens when Jiya is forced to see a doctor. From Paterson Joseph's perspective, "I think you saw in the previous season, when we sent pilots back, not all of them came back in one piece. We spoke about that in the training for the Lifeboat. He knows already that people have been damaged by it. There's a sense of guilt about it." While Mason feels guilty for Jiya's condition, Agent Christopher has a different responsibility. "We're in a little bit of a conflict about [how to help her]. He [Mason] goes to great lengths to figure out what's going on with that." By the end of the hour, Jiya and her team will have more questions than answers.
While the episode delivers some very interesting moments, including a shocking last-minute twist, pay attention to Alyssa Sutherland's work as Hollywood icon and scientist Hedy Lamarr. Not only does she prove to be a valuable asset, she has a very fun connection with someone on the team that will make you smile.
Timeless airs tonight on NBC.