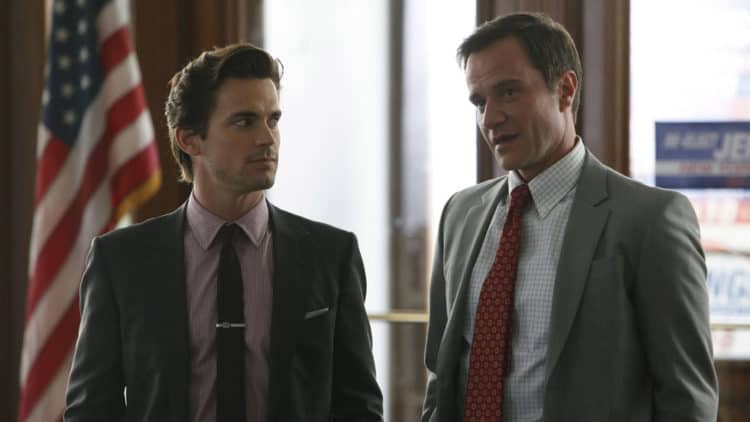 For the last four decades, Tim DeKay has been lighting up big and small screens with his acting skills. Since making his debut on screen appearance in 1995, Tim has gone on to land some very impressive roles. Many viewers may know him best from his role in in the TV series White Collar in which he played FBI agent, Peter Burke. Since White Collar ended in 2014, Tim has continued to do his thing and he has shown time and time again that he can play any kind of character that comes his way. Tim doesn't have any projects in the works at the moment, but we'll likely be seeing a lot more of him in the future. Continue reading to learn 10 things you didn't know about Tim DeKay.
1. He Is a Rutgers Alum
Tim was born and raised in New York state about four hours away from the city. He decided to stay relatively close to home for college and he attended Le Moyne College in Syracuse. After earning his bachelor's degree in business administration, he went on to Rutger's university where he earned a master's of fine arts in theater.
2. He Didn't Always Plan On Becoming An Actor
As you may have been able to guess by the fact that he studied business in under grad, Tim didn't always have plans on becoming an actor. Instead, he planned on working in the business or legal field. Eventually, however, he realized that he wanted to pursue acting and initially began his career in theater.
3. He Is A Husband And Father
Tim has always been the kind of actor who likes to keep his personal life to himself. One thing we do know about him, however, is that he has been happily married to actress Elisa Taylor since 1991. The couple has two children together: a daughter named Danna and a son named Jamis.
4. He Has Been On Broadway
Not only does Tim have theater experience, he has experience on Broadway. Tim appeared in the 1992 Broadway production of the play The Show Off. He has also appeared in several other off-Broadway productions. In more recent years, however, he has been primarily focused on his on screen career.
5. He Has Nearly 100 Acting Credits
Tim DeKay's acting resume is nothing short of impressive. In an industry where it's difficult to find consistent work, Tim has managed to do just that. Since 1995, he has earned nearly 100 on screen credits. There's a very good chance he will surpass that number with no problem.
6. He Is Not That Into Social Media
Social media has allowed people in the entertainment industry to connect with fans and colleagues like never before. Although Tim has accounts on popular platforms like Instagram and Twitter, he doesn't seem to have much interest in building a strong social media presence. Luckily for him, there are thousands of people who love to follow him anyway.
7. He Is A Voice Actor
Live action work is what has gotten Tim the most recognition over the years, but many will be surprised to know that he is also a talented voice actor. He had a voice role in the series God, the Devil and Bob and he voiced Gengerella in the 2020 video game The Man with the Golden Gun: The Radio Play. Additionally, he narrated the audiobook Blood Money by Doug Richardson.
8. He Has Been A College Professor
Sure, Tim loves acting – but he also loves to instill a love for acting in others. He has been an adjunct acting professor at the University of Southern California. There's no information on whether or not he plans to do any more teaching in the future, but there's an entire generation of up and coming actors who could greatly benefit from his instruction.
9. He Was In An Episode Of Friends
Tim has gotten a lot of awesome opportunities during his career and one of them was a guest appearance in an episode of Friends in 2002. Even though it was only a one time thing, he will forever be able to say he was a part of one of the most iconic TV shows of all time. Tim also had roles in other popular TV shows such as Ally McBeal, Party of Five, and CSI.
10. He Is A Director And Producer
Tim has spent the majority of his career in front of the TV, but he has also found that he's equally as comfortable behind it. He has also worked as both a director and producer. Most notably, he produced and directed several episodes of White Collar between 2012 and 2014.