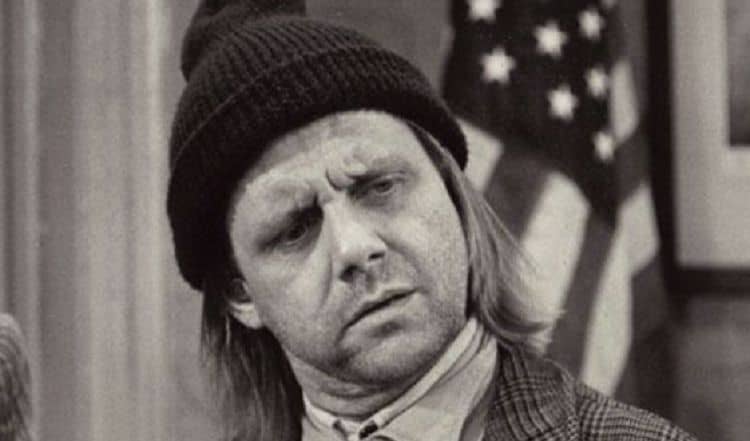 There's one show that a lot of people are going to remember William Sanderson from even if they don't recognize his name, since his character of Larry and his introduction of his brother Daryl, and his other brother Daryl, is classic for those that can remember the Newhart show. For a long time now William has been one of the many individuals that have been a supporting character, a sidekick, or someone that's just there since he's not exactly a leading man or anyone that might be considered to be anything other than a person that can help out here and there when he's needed. But like many others that have stepped into such a role, he's been great at it since he took this opportunity and ran with. Looking down his list of credits is nothing short of amazing since he's been in countless movies and TV shows over the years, but it's likely that he's only been recognized for a small number of them since to be certain, he is one of those that people enjoy seeing when he shows up, but whether or not a lot of his projects are widely recognized by a lot of fans is hard to say. A good example is the fact that asking anyone about the Newhart show is bound to be met with a blank stare these days if a person is under thirty years of age.
It's nothing to be salty about since it is a solid fact that trying to pin someone down by their name when you don't know who they are is pretty tough, but William has been around for so long that it feels as though most people should recognize him on sight at least. There are a few roles that he's easy to recognize in, as Larry is one of those considering that he's not exactly a dimwit but he is an odd character all the same since he has a very brooding look and it's evident that he and his brothers kind of throw people off their game since they appear to be, well, less than intelligent. They did perform their roles quite well since they were recurring characters on the Newhart show that a lot of people managed to get a good laugh from since their slightly dimwitted appearance was great and their constant need to announce who they were was one of the best parts of the show. To this day a lot of people that watched the show at least once or twice can remember Larry and his brothers.
Strangely enough, William is pretty memorable even if he's only guest-starred in a single episode on some shows since he did manage to make his way to Married…With Children for an episode as one of Peggy Bundy's relatives, Cousin Eb. The funny part of this is that he was given the role of such a back-country hick that he ate out of a feedbag and thought that what Al made was 'big money'. The episode kicked off with a pregnant Peggy going home to Wanker County when she felt ignored by her family so that she could be with her own kin in order to feel appreciated. But the trick is that once she was back in Wanker County she wasn't treated any better than she'd been at home since they expected her to take care of herself and even slaughter a hog if she wanted a bit of bacon. Cousin Eb was kind of a fun character even if he only lasted for one episode since he was a lot less passive and was a different look for William apart from many other roles he'd taken on. Another role that was kind of fun to see was that of Joe in the 1996 movie Last Man Standing with Bruce Willis, which was about a gun-toting stranger that wandered into the town of Jericho and found himself at odds with the warring gangs that had taken over the town. The thing about Joe is that he's thought to be a simpleton when he's just another of the townsfolk that didn't get out when the gangs moved in, as he appeared to be loyal to his home. When it all came to a head though he sided with Willis' character and took his own revenge on one of the gangsters in the end, paying back the stranger for his help. Joe wasn't a dumb character, but he definitely wasn't someone that you'd want to rely on in a gunfight. This kind of made it clear that he was a sidekick at best and not much else.
That's the thing with William though, he's always been a great supporting character and hasn't really stepped out of that role that much over the years. Whether he's wanted to or not is kind of hard to say, but he's done great being a supporting actor, so why mess with what works?