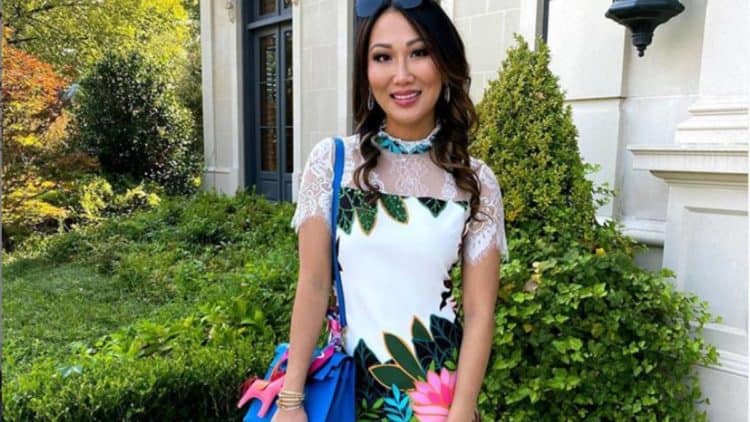 Since The Real Housewives of Dallas has only been on the air since 2016, it's seen far fewer cast changes than the other shows in the franchise. With that being said, reports of new cast members joining for the upcoming fifth season has lots of people talking. One of the people who is said to be a new cast member is anesthesiologist, Tiffany Moon. Although this hasn't been officially confirmed, this addition is a very strong possibility. The Dallas based doctor is also a wife and mother and she seems to have all of the makings of a perfect reality TV star. With her fun personality and positive attidue, she may turn out to be the perfect addition for the show. Continue reading for 10 things you didn't know about Tiffany Moon.
1. She Was Born In China
Tiffany has lived in Texas for many years, but she is originally from China. She told DFW Child, "I was born in China, in a small town outside Beijing. My parents immigrated to the United States when I was 3 years old, but I didn't come until I was 6. I came to America in 1990."
2. She Went To Cornell
Education has always been very important to Tiffany and she has gotten her degrees from very prestigious institutions. She began her studied at Cornell University and graduated in just two years. She then went on to study medicine at UT Southwestern Medical School.
3. She Has A Pet Rabbit
When it comes to pets, most people are dog people or cat people. Tiffany, however, is a proud rabbit person. She and her family have a cute little pet rabbit named Mochi who they enjoy walking around the yard on a leash. Although Mochi makes frequent appearances on Tiffany's Instagram, he doesn't have his own profile.
4. She's A TikToker
When most people think of TikTokers, they almost instantly envision Gen Zers recording themselves with lip syncing and dancing to the latest songs. While Tiffany doesn't fit that stereotype, she is a proud TikToker and she's found lots of success on the platform. She has nearly 237,000 followers on TikTok and her videos have gotten more than 5.5 million likes.
5. She's Really Into Fashion
For some people, clothes are simply worn out of necessity, but for others, clothing is an opportunity to to be creative and expressive. Tiffany is definitely part of the second group and she has always been interested in fashion. She has an extra special place in her heart for shows.
6. She Has Twins
Not only is Tiffany a very busy career mom, but her home life is very busy as well. She is the proud mother to twin daughters and she is the step mother of another set of twins from her husband's previous relationship. Even though it's not easy to juggle her personal and professional lives, Tiffany always finds a way to make it work.
7. She Loves To Stay Active
As a doctor it goes without saying that health is very important to Tiffany. She likes to keep her body and her mind in tip top shape by incorporating exercise into her regular routine. From the gym to at home workouts, Tiffany likes to find creative ways to burn calories.
8. She's Already Been On An Episode Of RHOD
Even before news began to circulate that Tiffany could potentially be joining the RHOD cast, it looks like she already had a connection with the show. According to her page on IMDB, she appeared in an episode of the show in 2019. Other than that, she has not made any on screen appearances.
9. She's A Wine Lover
Most people would agree that there's nothing better than a glass of win after a long day at work, and Tiffany is one of them. She enjoys trying different kinds of wine and is a self proclaimed wine lover. In her free time, she enjoys visiting local vineyards and wineries.
10. She Survived An Awful Car Accident
We've all been told that life can change in the blink of an eye, but that can be hard to believe until you find yourself in a situation where everything changes in a matter of seconds. In the fall of 2020, Tiffany found herself in one of those situations when she was involved in a car accident that could have easily left her seriously injured – or worse. In an Instagram post she said, "I have no words to describe how scared I was today as I went down the street and was hit by a huge truck. Thankfully my kids were not with me. I was running errands and they were going to come but last minute decided to stay home with daddy and play outside. I am scraped up pretty bad and have a fractured wrist and am very shaken up."
Tell us what's wrong with this post? How could we improve it? :)
Let us improve this post!