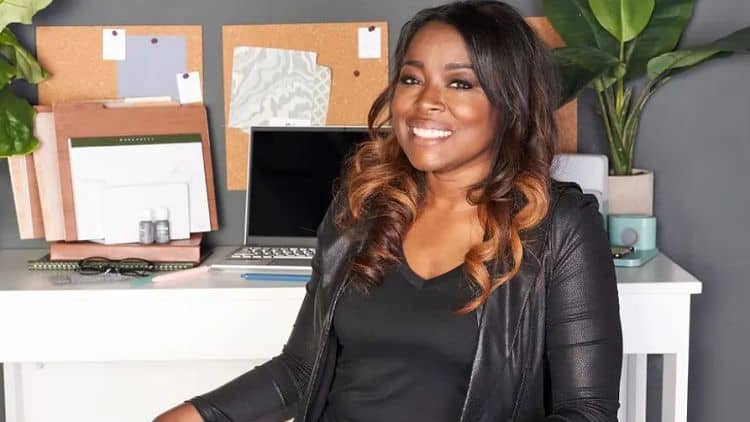 Tiffany Brooks' natural ability to transform a space from drab to fab has made her famous in the world of interior design. Originally from the Chicago area, Tiffany initially made a name for herself in the region. Now, however, it's not just people in the Windy City who know who she is. For nearly a decade, Tiffany has been sharing her talents with the world thanks to various appearances on HGTV shows. Her combination of creativity, hard work, and patience have made her highly sought after. No matter what kind of room she's working with, Tiffany has the ability to see its full potential. Keep reading for 10 things you didn't know about Tiffany Brooks.
1. She Started Her Career In Real Estate
Tiffany Brooks isn't the kind of interior designer who has always known that she wanted a career in design. Instead, she started her journey on somewhat of a different path. After getting her real estate broker's license in Illinois, she worked several jobs in the real estate field including being a property manager.
2. A Bet With Her Boss Lead Her To Interior Design
Tiffany may have started off in real estate, but that's exactly what led her to where she is now. When discussing how she got into interior design she told Washington Gas, "I was working as an assistant manager at an apartment complex and I took on the task of designing one of the models. They gave me a budget of $3,000 and I designed that model under budget. They liked it so much that they entered it in the CAMMEs, which is like the Grammys for the Chicagoland Apartment Association. I was entered into the category for best one-bedroom model. My boss made a bet with me that if our model won, that I had to pursue interior design for a career. Well, I won!"
3. She's Very Adventurous
Tiffany doesn't just work hard, she plays hard, too. She's all about living life to the fullest and she isn't afraid to step out of her comfort zone and try something new. When she gets free time, she likes to make the most of it. Tiffany is always down for a good adrenaline rush. In 2020, she even went skydiving.
4. She Has Diabetes
Tiffany was diagnosed with type 1 diabetes at an early age, and it has significantly impacted her quality of life over the years. In 2004, she became the recipient of a kidney transplant from her brother after one of her kidneys failed. She also received a pancreas transplant from an organ donor.
5. She's A Mom
Her work may seem like the most important thing in Tiffany's life, but it's really her family that means the most to her. Tiffany is married to her high school sweetheart, Dante Brooks, the couple has one child together. Like Tiffany, her son also suffers from diabetes and she has become a strong advocate for the Juvenile Diabetes Research Foundation.
6. She Had Her Own Show
When most people think of Tiffany's time on HGTV, shows like Design Star and Design at Your Door are what come to mind. What some people don't know, however, is that Tiffany also had her own show on the network. The series Most Embarrassing Rooms in America was released on HGTV in 2013 but unfortunately lasted for just four episodes before being canceled.
7. She Isn't Afraid To Speak Her Mind
Speaking out on topics that many consider controversial isn't an easy thing to do – especially for those who live in the public eye and have large platforms. However, Tiffany has used her social media presence to speak out against racism as well as the fight to end police brutality.
8. She Loves Connecting With Her Fans
Tiffany is incredibly thankful for all of the people who have shown her love and support over the years, and she enjoys getting the chance to interact with them. Tiffany is very active on social media and it's quite common to see her responding to questions and comments from fans.
9. She Likes To Get Extra Creative With Kitchens
Tiffany is all about doing what makes her client happy, but that doesn't mean she doesn't have her own opinions on how things should be done. Tiffany told Casaza, "I don't like when people concede to a standard kitchen. I like to think outside the box when it comes to kitchens. That includes color, how cabinets are laid out, and the use of solid surfaces."
10. She's All About Staying Positivee
Sure, Tiffany's skills and hard work have played the biggest role in why she's been so successful, but her attitude is also a contributing factor. Tiffany is the kind of person who always tries to see the good in situations and she doesn't stop working until the job is done.
Tell us what's wrong with this post? How could we improve it? :)
Let us improve this post!