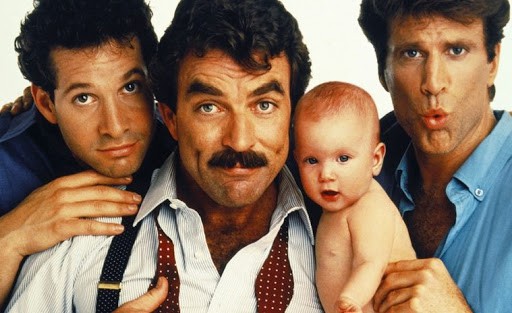 It's a little difficult to figure out which is more frustrating, the fact that reboots and remakes are what's being given so much attention at this point or the fact that people are actually convinced that a lot of them are worth bothering with. As Jeremy Dick of MovieWeb states it might be nice to see cameos from some of the original cast members, but otherwise the only way to really make this movie pop in any sense is to somehow outdo the original, which is hard to imagine since for its time, and even for now really, Three Men and a Baby was about as funny as it could get. Even Three Men and a Little Lady was pretty hilarious and it had a lot to do with the actors and the story itself. If anything gets changed by Disney, other than to update the story obviously, there's a good chance that it might deviate a little too much. Of course the likelihood of no one liking it is pretty low since Disney is a brand that people are going to flock to like lemmings the moment that something new comes out. I'll admit, when The Mandalorian came out I was one of the first to hop on board and enjoy it, but thankfully this doesn't happen for just anything. So far things sound as though they're moving along even though this movie was announced by Disney back in 2018, but now that it appears to be coming to the streaming service it might show up fairly quickly, relatively speaking.
Anyone bothering to say that a reboot will destroy the original is unfortunately worrying for nothing since much as has happened with many movies that have been given the reboot treatment, the originals are just fine and don't suffer a single bit. They've already etched their place in pop culture after all, and if a reboot destroys your image of said movies then the problem tends to lie with the fan, not the horrible movie that's just been made. Yes, if you were wondering, the thought of Ghostbusters 2016, which had a few fun moments at least, did enter my mind just then. But at the same time that movie didn't dampen anyone's love for the originals, which will be added to eventually with Ghostbusters: Afterlife. But getting back on topic, an updated version of Three Men and a Baby might be kind of interesting since it doesn't appear as though it should change much unless we're going to see the current day attitudes and a big dose of feminism ladled into the movie. If anyone can remember, all three guys were pretty successful womanizers in the original movie and were all three confident and forward in every way. They were the 'men's men' in a big way and as we've seen in movies today that attitude doesn't always fly as much as it used to. It's not a fear of what a possibly feminist lean could do to the movie, but a mild interest as to what could happen if today's societal norms were applied to a movie idea that was brought to the public back in the 80s.
Those that remember the movie can possibly remember it being pretty cute and toned down in terms of subject matter, but it's also something to think about when it comes to the fact that the three men that served as the main actors weren't always PC and the movie, despite being cute, was one that some folks might have an issue with when it comes to some of the content. It will depend heavily on how the script is written and where Disney will place this on their site obviously since the Mouse House is going to have to face some hard decisions eventually given that it's taken control of some very popular properties in its quest to dominate and will need to make the decision on whether to dull the edges and Disneyfy everything, or let some movies remain as they are and admit ownership from a distance while keeping as much control as they can over the process. Not everything needs to be given the cute and cuddly treatment after all as they've done this as much as they can with the MCU in recent years.
The original movie was pretty funny, so hopefully the writer of this script will find a way to keep a great deal of the original and update it as needed in order to bring this story into the mainstream of today. Not every reboot has been a bad idea since a few of them have done quite well even if they're not universally loved. With Three Men and a Baby it's likely that a lot of people have forgotten a great deal of the story however, so there might be a bit more leeway.